Iran
Ahmadinejad slams foreign interference in region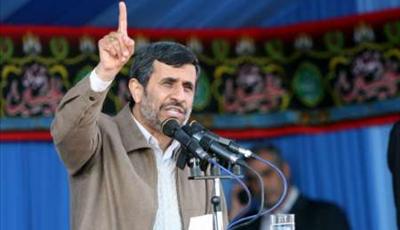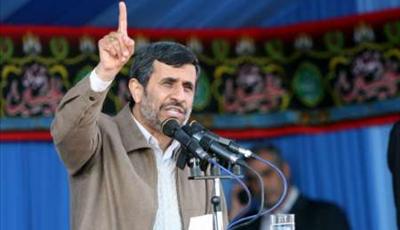 the problems have been imposed on the region by outside forces.
"There are countries which have targeted our region for their dominance," President Ahmadinejad said at a joint press conference along with Afghan and Pakistani presidents at the conclusion of a trilateral summit.
"We should oppose to outsiders' intervening in our affairs," Ahmadinejad said, adding that there is no problem among the three countries and the 'problems are coming from the outside'.
There are no problems among the regional countries. We should stand together against foreign intervention," President Ahmadinejad insisted.
Ahmadinejad said the Afghan President Hamid Karzai and Pakistani President Asif Ali Zardari are committed to work jointly to resolve problems. "We are determined to move in that direction," he said.
The Iranian President advocated for enhancing regional cooperation and putting in use all resources to address these problems.
He said the Summit in Islamabad and the next to be held in Kabul are going to have very positive impacts for people of the three countries.
President Ahmadinejad said that Iranian people greatly value their brotherly relations with Pakistan and hoped these will further augment in future.
Speaking on the occasion President Asif Ali Zardari emphatically stated that the relationship between the three countries can not be undermined by the international pressure of any kind.
About international pressure on Iran-Pakistan gas pipeline project, President Zardari said that Pakistan is lobbying the world and its point of view has been looked at and accepted.
"Iran and Pakistan are neighbors and we need to inter-depend on each other for prosperity of the region".
President Zardari thanked the visiting Presidents for coming to Pakistan to attend the trilateral summit. He invited the Iranian President to make a bilateral visit to Pakistan at the earliest.
Earlier the three Presidents had held wide ranging talks on cooperation in diverse fields focusing on cooperation in counter terrorism and transnational organized crimes including drug and human trafficking, border management and trade.
Iranian President Mahmoud Ahmadinejad has also held separate meetings with Pakistani President Asif Ali Zardari, Prime Minister Yusuf Raza Gilani and Afghan President Hamid Karzai.
Ahmadinejad left Islamabad for Tehran on Friday evening.