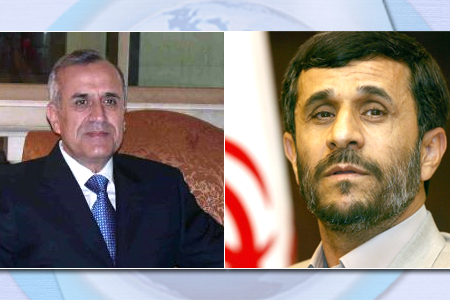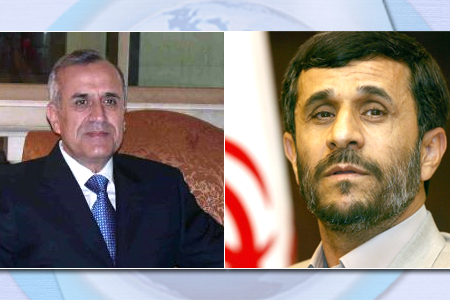 Iranian President Mahmoud Ahmadinejad has condemned Israeli aggression against Lebanon, calling on the international community to take immediate action against the assault.
"Israel's assault on Lebanon indicates the regime's desperation and disorganization and the international community should react to this blatant aggression," President Ahmadinejad said in a telephone conversation with his Lebanese counterpart, Michel Suleiman, late Tuesday.
The Iranian chief executive described the Zionist regime's adventurism as part of its policy for survival, which he said is indicative of its weakness rather than its power.
On Tuesday, Israeli forces launched several rockets targeting a Lebanese army position on the country's southern border, killing at least three Lebanese soldiers and one senior Israeli army officer. Several other Lebanese and Israeli soldiers were injured in the fighting.
According to a Lebanese army spokesman, the violence broke out after Israeli soldiers entered Lebanon, attempting to uproot a tree on the Lebanese side of the border.
"Israel's invasive action proved that this regime is not seeking peace, but looks at issues from the position of dominance and power and intends to weaken the stance of the Arab world in the region; all these result from its helplessness," President Ahmadinejad added.
He also reiterated that the Israeli regime is faced with "a legitimacy crisis," and noted that such a military offensive won't create legitimacy, but will further reveal its illegitimacy.
The Iranian president further voiced the Islamic Republic's support for the Lebanese nation and government.
"The Iranian nation will always stand beside the courageous people and government of Lebanon," he went on to say.
The Lebanese president, for his part, thanked Tehran for its supportive stance, holding the Israeli regime accountable for the killing of the Lebanese people.
"Lebanon's recent stable condition prompted Israel to launch military attack on the country, but it faced the Lebanese army's resistance," Suleiman said.
An Iranian Foreign Ministry statement also calls on the world community to condemn such acts of aggression, and immediately adopt measures to halt further Israeli incursions in order to safeguard Lebanon's territorial integrity and sovereignty.
A history of Israeli aggression and the numerous conflicts Tel Aviv has imposed on the region, coupled with the recent incursion, have fueled already existing concerns about another possible war on the Lebanese people by the Israeli regime, said the statement.
The Zionist regime's stance on Lebanon's local developments reflects its intent to trigger domestic unrest in the country, the statement noted.