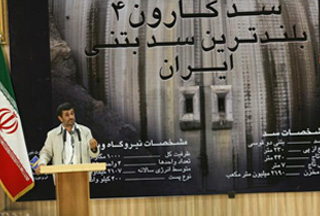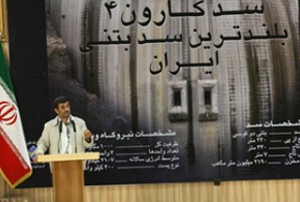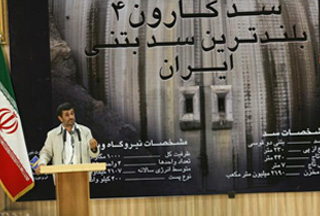 Iranian President Mahmoud Ahmadinejad has slammed Western governments for their unconditional support of Israel.
"We don't want you to take a position against Israel; you cannot do that," he said, speaking at a ceremony at Shahrekord in central Iran for the inauguration of a hydroelectric dam across Iran's largest river, Karun.
"There is not a single statesman in the West who is brave enough to stand up against these corrupt Zionists, who have dominated the European nations and the US, and humiliated them with such crimes."
"There is not a brave statesman in the West. At least it seems so for the present. Maybe one will be found in the future," Ahmadinejad said.
He did not however demand that the West have a turnabout and oppose Israel.
"We lower our expectations," he said. "We don't want you to counter such crimes, although you are morally obliged to do so."
Instead, he demanded objectivity from Western governments, and said, "[We want you to] remain neutral. Withdraw your support from these Zionists."
He further said that Washington itself was part of the problem [in the Middle East conflict], because it has always been on Tel Aviv's side.