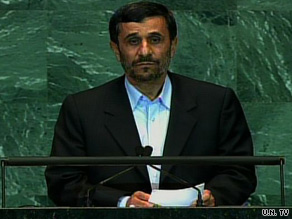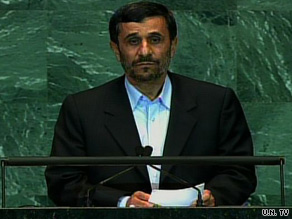 Iran's President Mahmoud Ahmadinejad , addressing UN General Assembly Thursday, strongly criticized the US-led occupation of Afghanistan and Iraq, using the suspicious 9/11 attacks as a pretext.
President Ahmadinejad emphasized that as a result of the US-led invasion of the two countries terrorism, poverty, and destruction was imposed on their nations.
The Iranian president also blasted the Israeli siege of Palestinian lands and their repeated crimes and aggressions against Gaza and Lebanon with blessings from their Western supporters.
On the Iranian nuclear issue, President Ahmadinejad reiterated Iran's readiness to resume talks based on the Tehran Nuclear Declaration, censuring the unjust imposition of anti-Iran sanctions by the UN Security Council. He also censured the world body's inaction towards Israel's nuclear activities.
He also expressed sympathy with the people and government of flood-stricken Pakistan and urged the world to provide aid and support for the flood victims.
Earlier, US President Barack Obama claimed that the "door was open" to a diplomatic solution on the stand-off over Iran's nuclear program.
Iran rejects accusations by Israeli and its allies that Tehran's nuclear program harbors a military aspect, arguing that as a signatory to the Nuclear Non-Proliferation Treaty the country has the right to use peaceful nuclear energy.
The county has criticized the international communities silence over Israel's undeclared nuclear weapons as well as its refusal to sign the NPT or allow UN inspections of its nuclear facilities.