Iran
Ahmadinejad Stresses Opposition to Powers' Interference in Nations' Domestic Affairs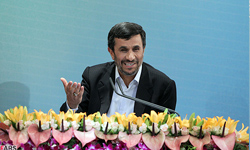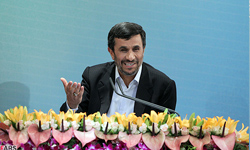 Iranian President Mahmoud Ahmadinejad in a meeting with Mauritius Foreign Affairs and Trade Minister Arvin Boolell in Tehran on Tuesday stressed Iran's opposition to the world powers' interference in the internal affairs of the other world countries.
"Iran supports Mauritius's territorial integrity and independence of its government and it opposes the interference of certain expansionists in Mauritius," Ahmadinejad said at the meeting held on the sidelines of the Non-Aligned Movement (NAM) foreign ministers' meeting in Tehran on Tuesday.
He said Tehran believes that the expansionist powers' interference in Mauritius is "just the result of the arrogant powers' greed for that country's capital and wealth".
"Iran and Mauritius are two independent countries which want progress and the two nations don't seek dominance over others and this is a good ground for the expansion of economic cooperation and the deepening of political relations to pave the ground for the further improvement of the level of the two countries' ties in all fields," he added.
Iran on Tuesday assumed the rotating presidency of the NAM foreign ministers as the NAM ministers officially started a two-day meeting here in Tehran this morning.
During their meeting, NAM foreign ministers will draft a final document for the 16th NAM heads-of-state summit slated for August 30-31.
Over 150 world states and global bodies have sent their representatives to the NAM meeting in Tehran.
The Non-Aligned Movement is a Cold War organization that intends to provide a forum for countries that were not allied with either the United States or the Soviet Union. But from its origins in the 1950s there were members that did not fit that description, and since the Soviet Union was dissolved in 1991 the group has struggled for both identity and clout.
Now, its system of rotating leadership has put it back in the spotlight, as its summit is set for Tehran at a time of the western sanctions against Iran due to its peaceful nuclear program.