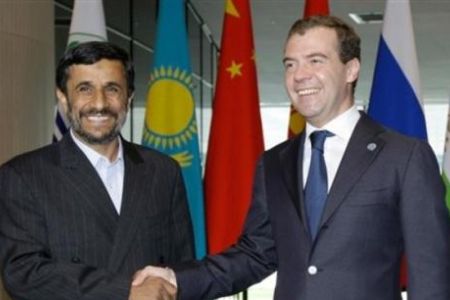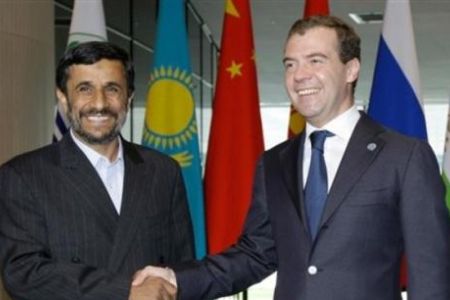 Iranian President Mahmoud Ahmadinejad is to hold talks with his Russian counterpart on the sidelines of the Caspian Sea summit.
Dmitry Medvedev will meet on Thursday with Ahmadinejad to discuss Iran's nuclear program, Russia's top presidential aide Sergei Prikhodko said on Wednesday.
The US and its allies accuse Iran of pursuing a military nuclear program, and used their influence in the UN Security Council (UNSC) to impose fourth round of sanctions against the country over its nuclear program in June.
Russia, Iran's longtime trade partner, had traditionally opposed the adoption of the UNSC resolution against Tehran, but joined world powers in approving the sanctions against the country.
Tehran rejects Western accusations of pursuing a military nuclear program, arguing that as a signatory to the Nuclear Non-Proliferation Treaty the country has the right to peaceful nuclear energy.
Ahmadinejad and Medvedev will meet on the sidelines of a summit of Caspian Sea littoral nations in the Azerbaijani capital, Baku, the Russian news agency RIA Novosti quoted Prikhodko as saying.
The Iranian chief executive arrived in the Azeri capital of Baku on Wednesday to attend the third meeting of the leaders of Caspian littoral states in order to negotiate the legal regime of the sea and to discuss relations with Azeri officials.
The Caspian Sea is the largest enclosed body of water on earth by area, variously classed as the world's largest lake or a full-fledged sea.
The maritime and seabed boundaries of the Caspian Sea have yet to be demarcated among Azerbaijan, Iran, Kazakhstan, Russia and Turkmenistan — the five countries bordering the sea.
Despite extensive negotiations, the legal status of the Caspian Sea has been unclear since the breakup of the Soviet Union in 1991.
The Caspian Sea legal regime is based on two agreements signed between Iran and the Soviet Union in 1921 and 1940.
Azerbaijan, Kazakhstan and Turkmenistan — the three new littoral states, established after the collapse of Soviet Russia — do not recognize the prior treaties, triggering a debate on the future status of the sea.