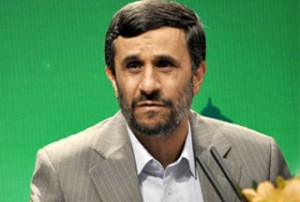 Iran's President Mahmoud Ahmadinejad has submitted a list of his proposed new cabinet ministers to the country's Parliament (Majlis).
The president unveiled his 21-member cabinet late on Wednesday.
Parliament Members will examine the list from August 23 before they hold a confidence vote on August 30.
The list includes three women to head the ministries of health, social welfare and education.
After winning a hotly disputed election in Iran, Ahmadinejad took his oath of office before the Parliament on August 5.
The president's disputed re-election was met with opposition from other presidential candidates as mass rallies were held across the country with protestors dubbing the polls as rigged.
Vice-Speaker of Iran's Parliament Mohammad-Reza Bahonar said on Thursday it was likely that several of the ministers would be rejected by the assembly.
"Some of my colleagues and I … believe that close to five ministers proposed by Mr. Ahmadinejad will not receive a vote of confidence," he said, without giving the names of the ministers.
He also predicted that the rest of the proposed ministers would be approved only by a narrow margin.
The proposed ministers' list includes:
Minister of Foreign Affairs: Manouchehr Mottaki
Minister of Oil: Masoud Mir Kazemi
Minister of Defense: Brigadier Ahmad Vahidi
Minister of Intelligence: Heyder Moslehi
Minister of Justice: Morteza Bakhtiari
Minister of Interior: Mostafa Mohammad Najjar
Minister of Economic Affairs and Finance: Seyyed Shamseddin Hosseini
Minister of Commerce: Mehdi Ghazanfari
Minister of Culture and Islamic Guidance: Seyyed Mohammad Hosseini
Minister of Education: Sousan Keshavarz
Minister of Cooperatives: Mohammad Abbasi
Minister of Welfare and Social Security: Fatemeh Ajorlou
Minister of Industries and Mines: Ali Akbar Mehrabian
Minister of Jihad-e-Agriculture: Sadeq Khalilian
Minister of Communications and Information Technology: Reza Taqipour
Minister of Energy: Mohammad Aliabadi
Minister of Health: Marzieh Vahid Dastjerdi
Minister of Housing and Urban Development: Abdolreza
Sheikholeslami
Minister of Labor and Social Affairs: Ali Nikzad
Minister of Science, Research and Technology: Kamran Daneshjoo
Minister of Road and Transportation: Hamid Behbahani