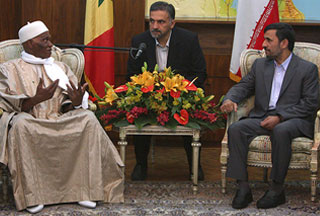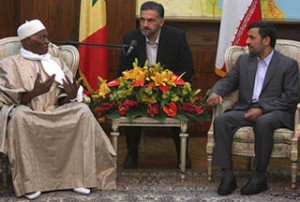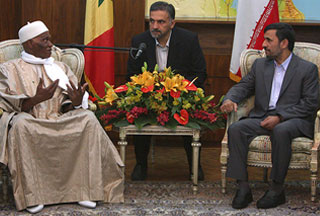 Iranian President Mahmoud Ahmadinejad has warned against plots hatched by arrogant powers to loot the wealth of Muslim and African countries.
"If Muslim and African countries lose their vigilance, arrogant powers will resolve their vows by making use of the funds and resources of African, Muslim nations," said Ahmadinejad in a meeting with his Senegalese counterpart Abdoulaye Wade in Tehran on Saturday.
The Iranian president called on Muslim and African countries to take steps towards bolstering cooperation with the aim of "meeting their needs and achieving independence in various fields."
"It is a must for Muslim and African states to enhance ties and cooperation and play an effective role in international developments," he added.
The Senegalese President Wade arrived in Tehran at the head of a high-ranking politico-economic delegation on Saturday morning. He was officially welcomed by his Iranian counterpart at the presidential office.
The Senegalese chief executive came to Tehran from the Bahraini capital of Manama and will fly to Paris later tonight.
In his meeting with Ahmadinejad, the Senegalese president said that African countries seek to gain independence in all sectors including agriculture.
Wade called on Iran to transfer its experience in areas such as the transfer of energy and water and the construction of power plants.