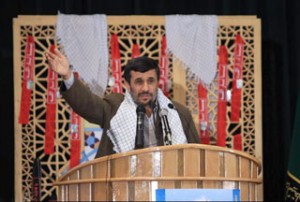 Iranian President Mahmoud Ahmadinejad says the US will definitely fail in the Middle East, as the regional nations will not allow it to dominate the region.
Addressing people in the southern city of Shiraz on Tuesday, President Ahmadinejad said Iran strongly opposes US plans to spread its dominance in the region.
"The problem is that the US seeks to dominate the Middle East but the Iranian nation is an obstacle [to it]," President Ahmadinejad said, adding that issues such as Iran's nuclear program and human rights were nothing but mere "pretexts".
"The nuclear game is repetitious, old-fashioned and boring. Say publicly that you are seeking dominance over the Middle East but Iran does not allow [you to do so]. "
"But the world should know that the Iranian nation and the regional countries will make it impossible for the US to dominate the Middle East," the president noted.
On Iran's nuclear issue, President Ahmadinejad rejected outright the allegations that Tehran was making nuclear bombs.
He said if wanted, Iran could build bombs, which it did not, adding that the Iranian nation would stand firm on whatsoever it has announced till it achieves it.
"[You should] know that if we wanted to build bombs, we had enough courage to announce that we were making bombs."
"We are a great and brave nation. We told you that we will launch the [nuclear] fuel cycle and we did it. We told you that we will industrialize the fuel production and we did it … we told you that we will launch a new generation of centrifuges and we did."