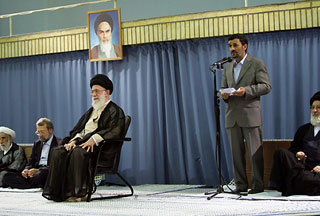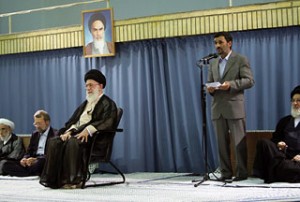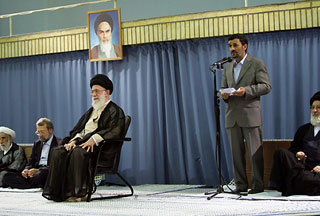 Iranian President Mahmoud Ahmadinejad, who is set for his second term in office, lashes out at interventionist policies of "bullying powers" amid international pressure on Iran over its nuclear program and post-election crackdown.
During an address in a ceremony which he was formally endorsed as Iran's president for a second term, Ahmadinejad slammed "selfish world powers" for meddling in the affairs of other nations and for "dictating their will on them."
"Gone is the era of bullying; you can no longer impose your will on the world nations. I recommend you turn back to the path of justice and shy away from meddling in others' affairs," Ahmadinejad said.
His remarks come as Iran blames Western governments, particularly Britain, for alleged interference in the country's election and for allegedly fomenting unrest following the June 12 vote.
"You did wrong to our nation both through and after the election and exploited your political and financial potentials in favor of your own interests," Ahmadinejad fumed. "The noble Iranian nation will not brook such insincerity and selfishness."
Ahmadinejad, who is to be sworn in before Parliament on Wednesday, vowed a stronger presence in the international arena.
"A powerful international presence is an imperative if Iran seeks to have a say in international arenas," he said.
Relations between Iran and the West suffered a major blow due to Ahmadinejad's uncompromising foreign policy and his condemnation of Israeli 'atrocities' against the Palestinians.