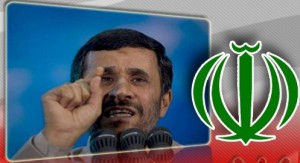 After Iranian President Mahmoud Ahmadinejad called the Holocaust "a myth" in an anti-Israeli speech on the annual Qods Day, the European Union moves to condemn his remarks.
"The presidency of the European Union condemns statements by President Ahmadinejad at the Qods Day rally in Tehran where he repeated denials of the Holocaust and of the right to exist of the state of Israel," said the EU in a statement on Sunday.
"Such statements encourage anti-Semitism and hatred. We call on the leaders of the Islamic Republic of Iran to contribute constructively to peace and security in the Middle East," it added.
Speaking on the annual Qods Day, the last Friday of the fasting month of Ramadan, Ahmadinejad renewed his comments about Israel and the "myth" of the Holocaust, which caused outrage in the US, Russia and certain Western states including Britain, France and Germany.
"If the Holocaust, as you claim, is true, why don't you allow a probe into the issue?," President Ahmadinejad raised the question, calling Tel Aviv a symbol of lies and deception founded on 'colonialist' attitude.
He said Zionism seeks to build a global empire to dominate the whole world so it was in the national interest of all countries to face up to the "fake regime."
While he did not deny the Holocaust, the Iranian president, who plans a speech before the UN General Assembly, raised some questions about the issue and asked Western powers for a logical answer.