Syria
Aid Convoy Soon Heading to Nubl, Zahra After Army's Breaking Siege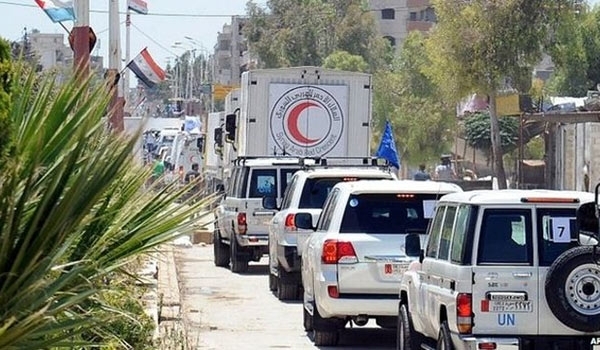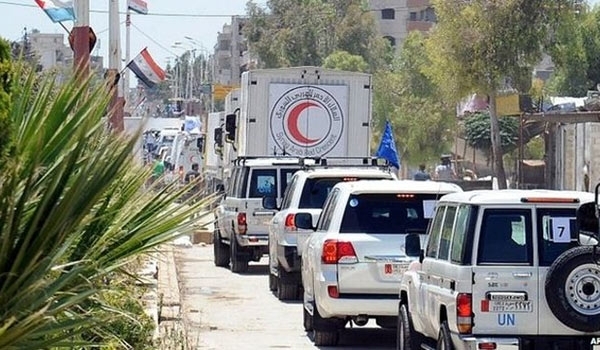 The residents and officials in the Syrian province of Aleppo are set to send a convoy of popular humanitarian aids to help the residents in newly liberated towns of Nubl and al-Zahra in the Northern parts of the province.
The convoy comprises 20 trucks fully loaded with medical, food and other emergency aids for the residents of the Shiite-populated towns which have been under the siege by ISIL Takfiri militants for four years.
The Syrian army last week ended the terrorists' long siege of Nubl and al-Zahra and the two towns are presently the main bases of the Syrian army in Northern Aleppo.
Shortly after the liberation of the towns, the Syrian army, popular forces and Hezbollah started delivery of food and medical aid to the liberated Shiite towns of Nubl and al-Zahra who were starving to death under the terrorists' siege until they were rescued by the government troops and their allies last week.
The pro-government forces, who managed to end siege of the two towns in Northwestern Aleppo province were under the terrorists' missile and artillery attacks after the siege was removed.
After the Syrian army forces and their allies entered the two towns, a convoy of humanitarian aid of the resistance forces arrived there.
Head of Nubl's city council said in remarks published recently that the residents of Nubl and al-Zahra dearly defended their towns against the terrorists, and following liberation of the towns by pro-government forces, terrorists were fleeing towards the Turkish borders.
The siege of the strategic Nubl and al-Zahra towns was removed in an army offensive from the Eastern side of the two towns, while other units of the Syrian army also managed to purge terrorists from the village of Ma'arasta al-Khan.
Meantime, the siege of Foua'a and Kafria has entered its 11th month while the terrorists have killed 600 Shiites in these two towns and prevent delivery of food and medical aid to their residents.