Palestine
Al-Aqsa Attacks Infuriate World Muslims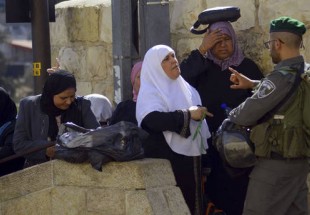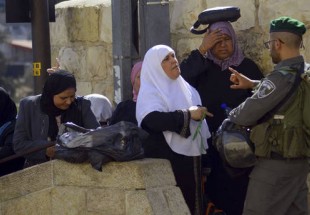 In solidarity with Australian Muslims against media campaigns, a group of non-Muslim women have organized a hijab event, putting on Islamic headscarves and offering flowers to Muslims celebrating `Eid Al-Adha.
Publish date : Saturday 11 October 2014 10:11Code: 171023
"We told them we were sorry you've been treated so badly in the media and we wanted to say we stand with you in solidarity and we want to share love instead of hate," Annabelle Lee, a 26-year-old who helped organize the event, told The Canberra Times on Wednesday, October 8.
The event was organized earlier this week to send a "message of love and solidarity" to Muslim women.
The organizers said that they wanted their "fellow Canberran Muslims" not to feel left out amid an anti-Islamic rhetoric that has recently surfaced in the country.
Attending an Islamic festival in the Australian capital, 10 women gave away flowers to feasting Muslim women, children and men participating in the `Eid morning prayers at the AIS Stadium in Bruce.
"And when they heard that, many of them wanted to give us a hug, many smiled and some were brought to tears," she added.
The gesture was welcomed by Muslims.
"They had people coming forward and putting a [hand] on their shoulder, saying 'Look, we're here with you. We know you guys are good people like us and we are all in a community, caring and sharing and it should be an exception," Islamic Society of Belconnen vice-president Hassan Warsi said members of Canberra's Muslim community said.
"It was obviously a very good feeling and people were touched by that", he added.
Muslims, who have been in Australia for more than 200 years, make up 1.7 percent of its 20-million population.
In post 9/11-era, Australian Muslims have been haunted with suspicion and have had their patriotism questioned.
The anti-Muslim sentiments further increased following last month's anti-terror raids, deemed the biggest in Australian history, in which 15 people were arrested from north-western Sydney.
The raids were followed by a huge number of anti-Muslim attacks, including a mosque being defaced in Queensland and direct threats issued against the Grand Mufti of Australia.
Earlier this month, hundreds of Queensland Muslim groups and individuals have urged stricter penalties for people convicted of hate crimes that can be linked to the introduction of national security legislation.