Palestine
Al-Aqsa preacher: Jerusalem not for bargaining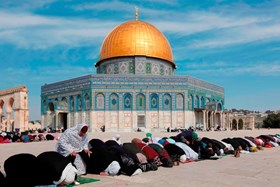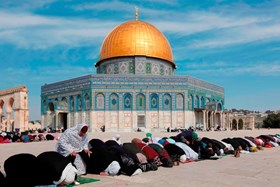 Preacher of al-Aqsa Mosque Sheikh Yusuf Eslim called during the Friday sermon for intensifying Palestinian presence in al-Aqsa Mosque as it is considered "a holy duty for Jerusalemites and Palestinians inside the Green Line."
"The holy duty imposes on us to protect the holy shrine by all possible means," he said.
Under international law, places of worship and religious sites, cemeteries and shrines must be protected against vandalism and destruction, Sheikh Eslim stressed.
"UN Resolution 271 (1969) of 15 September 1969 also stresses the fact that any act of destruction or profanation of the holy places, religious buildings and sites in Jerusalem or any encouragement of, or connivance at, any such act may seriously endanger international peace and security."
In 1967, the US declared in the UN General Assembly that Jerusalem is one of the oldest cities in the world, and no changes should be introduced on it, he continued, pointing out that the Fourth Geneva Convention prevents any act of destruction against the people's cultural and spiritual heritage.
Special protection has been given to places of worship by The Hague Convention, he added.
Sheikh Eslim stressed the need to act urgently in order to halt violations of the international laws and conventions related to the protection of Islamic holy sites and historical relics in occupied Jerusalem.
The preacher refuted a Jewish rabbi's recent allegations claiming that al-Aqsa Mosque is located in Makkah and that the word Jerusalem is not mentioned even once in the holy Quran.
In Islam, Masjid al-Haram (The Sacred Mosque) is considered the Holiest site, followed by the Al-Masjid an-Nabawi (The Prophet's Mosque) and Al-Aqsa Mosque, he clarified.
Sheikh Yusuf Eslim emphasized that Muslims all over the world could never compromise over Jerusalem, adding that it was not and will never be up for bargaining as it is part of their creed.