Middle East
Syria
Al-Assad:Red Cross Humanitarian Operations welcomed as long as they are Independent and Neutral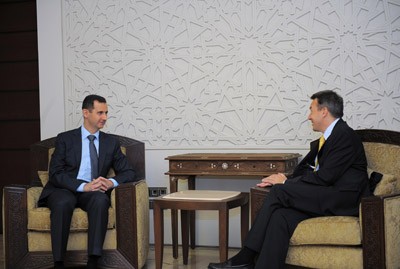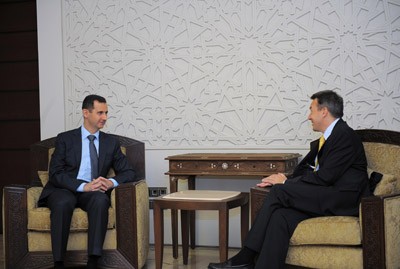 President Bashar al-Assad on Tuesday said Syria welcomes humanitarian operations carried out by the International Committee of the Red Cross (ICRC) on the Syrian ground as long as it works independently and neutrally,"
The President's words came during his meeting with Head of the ICRC Peter Maurer.
Talks during the meeting dealt with the standing cooperation between the ICRC and the Syrian government and setting the appropriate mechanisms for enhancing this cooperation.
For his part, Maurer expressed appreciation over the Syrian government's cooperation with the committee, hailing the bridge of confidence built between the two sides.
Deputy Foreign and Expatriates Minister Dr. Fayssal Mikdad, Director of Organizations Department at the Foreign and Expatriates Ministry Hussam-Eddin Ala and Head of the Syrian Arab Red Crescent Abdul Rahman al-Attar attended the meeting.
Last September, President al-Assad received the former head of ICRC and stressed the necessity of the committee to directly inspect the reality of the situation in Syria ,particularly in light of the media distortion of the facts.
President al-Assad welcomed the work of the Committee as long as it is independent, works objectively and away from politicization.
Mikdad: Syria Committed to Facilitate ICRC Humanitarian Operations in Syria
Later, Mikdad and Maurer reviewed means of enhancing the standing cooperation between the two sides and overcoming obstacles facing the ICRC humanitarian operations in Syria.
The two sides agreed on certain coordination mechanisms to activate the humanitarian activities to cope with humanitarian needs of the Syrian citizens.
Mikdad stressed the Syrian government's commitment to facilitating the mission of the International Committee and providing all means to carry out its activities in line with principles regulating its work, particularly neutrality, independence and achieving its humanitarian goals.
For his part, Maurer thanked the Syrian government for its cooperation with the ICRC, stressing the ICRC's commitment to carry out its work of serving the interests of the Syrian citizens affected by current events neutrally and away from any foreign political influence.