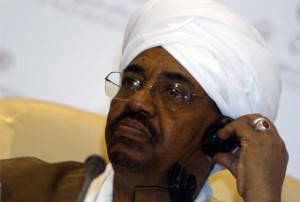 After the signing of a peace deal between the Sudanese government and the main rebel group, President Omar al-Bashir says the war in Darfur is over.
"The crisis in Darfur is finished; the war in Darfur is over. Darfur is now at peace," he said during a speech in El-Fasher, the capital of North Darfur state.
"The combat of arms is over, and the one of development now begins. We need to make more efforts to develop Sudan and Darfur," he added.
The announcement came a day after the government and Sudan's most heavily armed rebel group Justice and Equality Movement (JEM) signed a truce and power-sharing deal in the Qatari capital, Doha with a final peace deal due to be signed by March 15.
According to the peace deal, JEM is expected to establish a political party after the signing of a final agreement.
JEM spokesman Ahmed Hussein had earlier said that the agreement would place issues such as the division of Darfur's natural resources and the safety of refugees on the agenda of direct talks that could begin Monday in Qatar.
The group's leader has also urged for a delay in April elections, saying that thousands of displaced people would be unable to vote.
"Our position is to ask for a delay in these elections because there are numerous citizens of Darfur and (the western states of North, South and West) Kordofan, who will not be able to take part because they are displaced," said Khalil Ibrahim.
The UN says 300,000 people have been killed and more than 2 million others displaced in the seven-year violence in Darfur.
The Sudanese government rejects the UN reports and puts the figures at closer to 19,000 dead and hundreds of thousands displaced.