Palestine
Al-Hayya calls for expediting Gaza reconstruction, national cooperation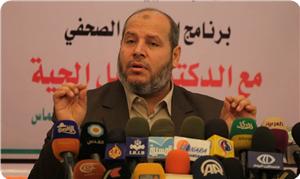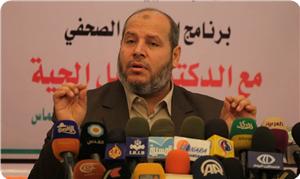 Dr. Khalil al-Hayya, political bureau member of Hamas, called on the Palestinian unity government to reap the fruits of the mounting international pro-Palestine support and press ahead with Gaza's seaport and airport construction bids.
Al-Hayya said in an exclusive interview with the Palestinian Information Center (PIC) on Saturday: "Hamas will help the unity government overcome all the obstacles lying in store."
He called on Pro-Palestine organizations and activists, nationwide and oversees, to pool resources, initiate the reconstruction project, and step up pressure on the Israeli occupation to allow access of reconstruction materials into the Strip.
He said Hamas has provided 2,000 dollars of relief cash aids to help some of the displaced Gazans find provisional shelters for their homeless offspring.
Shifting to another issue, he said, "Our resistance is equipped with enough power and arms to move on and develop its potentials and none would stop it."
Al-Hayya reiterated Hamas's determination to lift the Gaza siege once and for all, vowing to ask for the support of Egypt and all international parties who brokered the ceasefire if Israel procrastinated in implementing the agreements.
He slammed Abbas's claims regarding Hamas's formation of a shadow government in Gaza, declaring: "We only have employees who are doing their best to serve their people and meet their needs."
"Do we have to pack up and leave Gaza fall apart under such a fierce Israeli offensive?" he questioned, adding: "Officials at the unity government would better take on their responsibilities."
"We will stand by our employees and will never let them down," he vowed as he raised alarm bells over the salary crisis in Gaza.
"We have no other option than to adopt a unified national strategy. Whoever turns his back on us and grows suspicious, history shall leave him/her behind," al-Hayya concluded.