Syria
Al-Jaafari from Geneva: Syria Ready to Find Solutions, Opposition Not Serious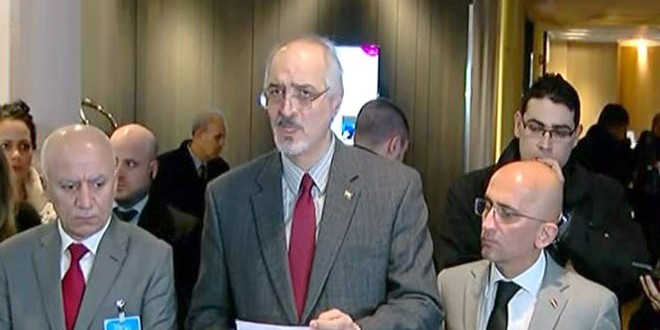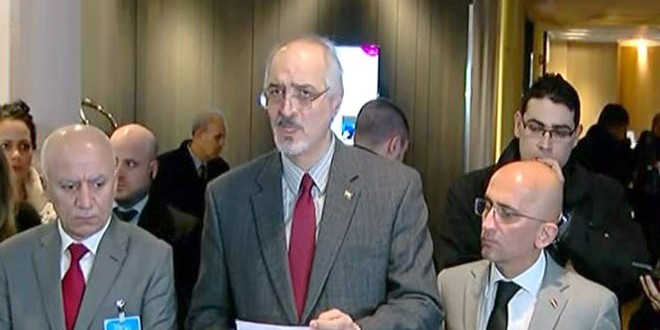 The head of the Syrian government delegation to the UN-brokered peace talks said Sunday that the interest of the Syrian people is the compass for the delegation in Geneva and must be the compass for dialogue.
At a press conference in Geneva, Switzerland, Al-Jaafari reiterated the readiness of Damascus to find a solution to end the foreign-backed crisis in the country.
Al-Jaafari made it clear that the text of the international resolution no. 2254 and that of the invitation addressed to the Syrian government have not been respected, referring to the opposition delegation's delayed attendance at Geneva, which he said was a sign of "lack of seriousness and responsibility".
"There is an accumulative political process to start with, and to speak of preconditions means that those sides are coming to the meeting to undermine it," he said.
Syria's delegation, he noted, stressed to the UN Special Envoy for Syria Staffan de Mistura its readiness to work for finding a solution to end the crisis as long as there are parties with a serious will to work to that effect.
"We have proved our good intentions and the government's positive attitude towards any international UN effort to find a solution, but the problem has always been with the other party," said al-Jaafari. "Our delegation believes that any political solution to the crisis in Syria can't be achieved without the presence of a serious party to the dialogue process."
The other party, in case they are serious and keen to have the crisis solved, should come to Geneva with a national agenda in line with the resolution no. 2254 and the two Vienna statements, he added.
"No one up till now knows who the other party is, and there hasn't been a final list of the participants so far," said al-Jaafari adding that even UN Special Envoy Staffan de Mistura 'does not know it either'.
He slammed the opposition for its foot-dragging before the talks, saying it goes to show that the opposition is not serious in its intention to resolve the conflict.
The Syrian official said the twin bomb attacks near the Syrian capital, Damascus, on Sunday, are proof of the link between the anti-Syria opposition delegates and the terrorists in the country. The attacks left dozens of civilians dead and scores wounded.
Earlier, de Mistura said he is "optimistic and determined" that delayed peace talks on the conflict in Syria will be held, after he met with Syria opposition groups, whose refusal to participate has been to blame for the delay.