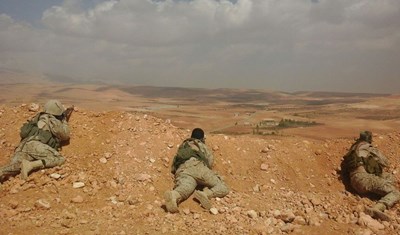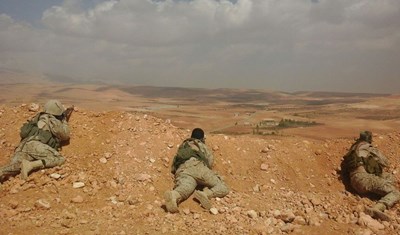 This field visit is different from all its predecessors. Unlike its usual coverage of battles, and delivering reality, as it is, this time, al-Mayadeen was a guest in one of the most difficult front not to cover the battles, but to see how Hizbullah combatants live, up close. This is the first time this has been done since they partook in the fight in Syria.
Hizbullah Resistance men
In the barren lands of Qalamun, specifically on the Lebanese-Syrian border because it represents and exemplifies the politics of this war through the harshness of its climate and martial aspects, and hundreds of meters away from armed Takfiri groups, was our meeting with Hizbullah combatants stationed on the hills. Combatants in the prime of their youth, university students from diverse specialties, who have committed their lives to defend a sacred cause. What is this war to them, and why are they partaking in it? How do they spend their time in this secluded piece of land? For those who have experienced fighting both the "Israelis" and Takfiris, what is the difference between both fights?
We submit this return as we stand on the brink of a new war with armed Takfiri groups on the Lebanese-Syrian border. We have left out descriptions of the fighters and their military posts, and the names used herein are aliases.
The barren lands that we visited in Qalamoun on the Lebanese – Syrian border are 1850m above sea level. Rough, rocky lands that have not been host to life since their geographical formation. High, empty hills, that were of no significance on the map apart from their being the hills of the Qalamoun Mountains and their barren lands that lay on the Eastern mountain chain of Lebanon and Syria. Circumstances dictated that this isolated piece of land that had never been host to man, be the focus of attention of major political powers, including the "Israeli" enemy, since the beginning of the crisis in Syria, and the arrival of Takfiri groups to the Lebanese border.
The trip to the posts took around half an hour to forty five minutes from the Qalamoun villages towards the "Jebbeh" and "Esal al-Ward" barren lands, in a 4-wheel drive vehicle. What no one knows is that the combatants throughout the barren lands were cut off from communication for three days because of the powerful storm "Zeina" that blew in some months ago, whilst snow reached a height of two meters. The winter fortifications and proper supplies allowed them to remain there, and to consider it as R&R (Rest and Recuperation). The combatants had for the first time also worn special Russian made army winter uniforms, impenetrable to rain or even air.
Rising snowfall throughout those lands pushed Hizbullah command to use snowmobile for the first time in a war setting in order to transport food and Mazut oil, and sometimes combatants whose shifts had ended. On the way over to the posts, "Hamza" (alias), one of the combatants said "I never imagined that I would drive a snowmobile here, and in war. A guy specializing in them taught some of us to drive them, and we taught each other…and now they all want a turn!" smiling here. "Kadhem", who was also in the area during the storm said "I went to the post, and couldn't believe I was above the post while the guys two meters under me were trying to remove the snow from in front of the bunker door. I could hear them singing anthems while they were trying to bore a hole in the snow… I called them and one replied jokingly from under the snow: "What do you care 'Kadhem' you think you're in Faraya!" "Kadhem" added that: "the guys saw it as R&R because back then the enemy couldn't step 1 meter closer to its advanced positions opposite from us, and they were well supplied and had heating".
Before arriving to the barren lands, the field commander, "Bader", tells us that most of the combatants we will meet are still in the prime of their youth. Between twenty and thirty-five years old, whose military experience comes from Hizbullah training camps and fighting in Syria, while others have previous experience fighting "Israel" in the South of Lebanon. All of these young combatants are of the "elite forces", the "Ridwan brigade", named after martyr Emad Mughniyah. Each of them here has a specialty, be that sniper, infantry, demolition, artillery, etc… The commander "Bader" took part in both wars, against "Israelis" and against Takfiris. "We did not experience urban warfare with the "Israelis", except on rare occasions, unlike Syria where we are in direct contact with them, and the fighting is wall to wall. On the personal level, fighting with the "Israelis" face to face has its own method of confrontation, we're on similar levels in military science. But Takfiris make for stupid enemies, with whom the game has no rules, despite the fact that both are enemies and want to kill us".
There is no doubt that the combatants that gained new fighting experience from urban warfare are unlike the older generation, and have a different military future. Here, "Bader" confidently says that these young combatants are "the resistance's new generation. They are going to be far stronger than we are because their expertise of different and of a high caliber. They are lively and full of energy…and education and technology also play a role in their day and age. In battle, we're proud to see hands on how strong each of them is. They climb mountains and run for long distances, fighting fierce battles with great bodily strength". Commander "Bader" continues: "They adjust to any land they're not from, from the scorching heat in summer to cold snows and sub-zero temperature that go as low as 10 below zero. Most of the world's armies cannot adjust to these barren lands, which can truly be dubbed "Tora Bora".
Chocolates, dates, raisins…and a smile
Slowly, we step away from all forms of life. No planted fields, no occupied homes. Bulldozers opened a road specifically to open the way to various military posts shared between Hizbullah and the Syrian army. Barren lands may be enough to paint the picture. Rocks and boulders everywhere and sands, al-Nusra's destroyed vehicles, and some caves where they found bags filled with explosive substances intended for car bombs, the same ones as those that were sent to Lebanon to target civilians. It took some effort, under cover fire, to arrive to an advanced location shared with the Syrian army. An organized military unit on high altert. Artillery, machineguns, and other weapons used against the militants, mounted on military vehicles scattered around the post, whilst combatants are at their stations performing their duties. This description should suffice.
Al-Mayadeen visits Hizbullah Combatants in Barren Lands of Qalamun
The combatants wearing desert-colored uniforms receive their guests with much surprise. They're not used to receiving guests wearing civilian clothing here. Their surprise to have guests so unexpectedly, and at this time, didn't stop them however from greeting them with respect and decency. The post's commander received us with us a smile that would remain as long as we were there, and proceeded to introduce us to the combatants.
Meanwhile, other combatants hurried to present some modest foods to entertain their guests: Chocolate, dates, raisins, and water. This, while we wondered how they had the time to do all this for us, but it's a quality they have in all their circumstances.
It's clear that "Bader's" relationship with the combatants is more than fine, as everyone greets him, hugging him as if he was a father. Later, when asked about it [the relationship], he says "they're in the field of battle. As their Commander I always have to be by their side. Combatants have their own circumstances as well, and need attention despite all the circumstances. Even if I'm their Commander, I have to treat them like brothers in certain aspects", adding "a kind word and reassurance go a long way in making things easy for them, and a commander must have these qualities. He must not be arrogant with them, yet must be firm in serious times and never allow mistakes". Hereat, he affirms the "brotherhood that has come about with the Syrian army, based upon mutual respect, trust, and the sacrifices they have made together against ISIS and al-Nusra's Takfiris".
Many bunkers are scattered about in the area, towered by the Syria flag. Some combatants sleep in tents here, on mats less than a meter wide, their personal items including a small Qoran and prayer books. There is a special tent used for foods, canned goods, and water. There is no TV here, and phones are strictly forbidden. Combatants are cut off from news of their family and all else for more than 15 days, depending on their duties and happenings on the field. Entertainment here is restricted to "building bunkers, cleaning, or some chatting and joking amongst brothers".
Whilst Syrian artillery targeted the militants in the barren lands of "Fleeta", we all gathered around to drink tea to help deal with the strong winds. Here, we chatted with some of the combatants.
"Hadi", 34 years old, is married with two children. They always ask him why he's away from home, and tell him that they miss him. He too misses them "I think of my wife and kids and I miss them. They always ask their mother where 'daddy' goes, and she says at work. It's only normal that kids want to learn what their father does, and each time I tell them I do something different". But "missing them strengthens my resolve to defend them, their future, my land, and all Lebanese".
"Hadi", like the other, adjusted to this new land, but the nature of the barren lands makes this battle different. "There is no sleep here. We perform our duty, protect our families, and go anywhere we have to be to protect our land. We can overcome all circumstances. We've adjusted to the land, though its conditions are worse than anywhere else, but we've adjusted with our environment and now understand it well".
There's no doubt that the war Hizbullah is fighting with the Syrian army has given way, after all these years, to a relationship forced by the battlefield, unlike its predecessors".
"The Syrian army and we are one, the war is against us both. We've learned from them and them from us. We exchange everything together, information, fights, you name it. What affects Syria affects us as well. This is one axis, and will share the same fate in this war".
Morale here is very high. Personal and military readiness is no different than any other battle on the field. But the resolve for this battle to be the last here, in the barren lands and along the border, to push out Takfiris, is stronger than ever. "It's either us or them", says "Hadi" firmly. "We will not allow this dark, backwards thought to rule over us, and will not allow our women, parents, and children are sold at auctions like they did to women in various regions of Syria and Iraq."
The cause comes first
Whilst "Hadi", commander of the post, is 34 years old, and is the oldest here, the rest of the combatants are either university students or graduates. The duty of some dictated that their studies be put on hold.
Al-Mayadeen visits Hizbullah Combatants in Barren Lands of Qalamun
Alaa (22 year old), comments on it saying "It won't work. You have to give something up in exchange. It's either study, or work full time. Some of the guys can reconcile studying with work or Jihad. It all depends on our circumstances and the nature of our work". Alaa has one year left before he gets his degree in Business administration, and affirms that he'll continue his education "unless I become a martyr before graduation", then he smiles, remembering many of his friends, now martyred. His green eyes fill with tears, and he says "Of course you're saddened by the loss of loved ones, and it's heartbreaking, but at the same time you're happy for them. This is our way of life, and our proud cause". He explains how his friends was martyred before him: "I lost my best friend in a violent battle in Qalamoun, but I was determined to pursue my mission in battle.
His body was retrieved by others who had been with us in the heart of battle. We've gotten used to it. We train and study how to be strong. In battle, there's no room for weakness and emotions. The loss of loved ones strengthens our resolve". Alaa joined the fight in Syria more than two years ago, and gained a great deal of combat expertise, and led a group of 8 combatants in a number of regions in Qalamoun. As for the Takfiri enemy he says "this enemy has nothing to do with humanity. Imagine what would've happened if they got to Lebanon! We're defending many countries, and not just one, and we're not looking for anyone's good favor for it. We're defending everyone. We're defending the church of 'Ras Baalbeck' before the mosque of 'Briteil'!"
Ziad, 26 years old, has a different situation than Alaa. He has a degree in business management and is employed in a company. He can reconcile between his work in the company and his duty in Jihad. "I'm here to protect my family and country first. It's our duty to defend our families and lands and protect them. Rowdy "Daniel" interrupts. He wouldn't give us his code name, so he chose Danel. He does not calm down or quiet down. His friends call him "Abu 'Ajqa" (Mr. Crowd). Daniel is 25 years old and has a degree in IT. Today is his second wedding anniversary, and he has a baby girl. "Meh, it doesn't really matter. If such occasions mattered I wouldn't have been here, and my wife understands that".
After "al-Nusra front's" attack on the barren lands of Briteil, calls rushed in from combatants to take part in the fight and defend our families there, and defend Lebanon. "This guy would beg so-and-so, that guy such-and-such, at least people I knew did this…We were all threatened. Those people approached Lebanon, and we have to fight them to keep them from spreading, and we're doing that without anyone good favor". Loudly and confidently, he says "I came here willingly, and we can live through anything. This is our school and the school of Haj Rodwan (Emad Mughniyah) that we grew up to". He adds "to every young man I say: it's true that we're in a completely isolated, lifeless area. But life is right here, and those who don't want to be with us can get off our backs". Everyone cheers and claps for Daniel fervently.
Mothers and wives have gotten used to their sons and husbands being away. Everyone says "mothers and wives perform Jihad just like we do". They put up with our being away, and they have responsibilities as well". Ahmad (30 years old), a history graduate says "Of course it's harder for the wife than it is for me. Men are built stronger. She busies herself with the kids, away from the man of house, and shoulders lots of responsibilities and burdens. This is also Jihad. In the beginning it was difficult for her, and of course it still is, but the nagging lessens as time passes".
Everyone laughs when some of those who are still single said "our mothers couldn't be happier when we leave the house. They pray for us down there and God answers their prayers here".
Ghaleb (21 years old) has a book in hand. He peeks into it during the short break. He's preparing for a geography exam in college. It's his final school year, and he's a very hard worker, and calm. His friends talk about him while he smiles. "He's calm now but don't take him lightly in battle!"
As for Ibrahim (23 years old), the law student, he believe that his understanding of this war is "a war to preserve humanity and its morality. Because if those on the opposite side were allowed to rule, the virtues of humanity would have been doomed, and so would the concepts of heavenly religions and their foundations, the most important of which being morality and mercy". Ibrahim goes on as everyone listens intently "what hurts me the most in this enemy is that it's distorting the tolerant image of Islam through killing, butchering, and calling others infidels even if they are Muslims". As for politicians in Lebanon, Ibrahim smiles, almost sarcastically so, saying "some are shortsighted, others are followers, and some blinded by hatred. He concludes before he leaves for his post when his shift began: "God bestowed this country with the gift of a wise, intelligent, honest man, an embodiment of manhood…If only we can appreciate this gift so that God would preserve it for us. May God grant a long life to our father Sayed Nasrallah".
"Life is over there"
Circumstances dictated that the visit be shirt, but the combatants insisted that we remain for lunch, which was due to arrive shortly. Today's platter was "Beans and rice". The meal arrives every day in a plastic container that has the daily platter, a piece of candy, and fruit. Despite all circumstances, food arrives everyday on time. Even when the combatants cut off supply routes between the towns of "al-Jebbeh" and "Esal al-Ward" in their last attack months ago, food was delivered on time, they said.
Al-Mayadeen visits Hizbullah Combatants in Barren Lands of Qalamun
The only time food arrived late was due to torrents in early winter, and rain. It was also late once when the food delivery vehicle was under sniper attack, according to the combatants. During the last month of Ramadan, the meals would sometimes arrive as late as 11 p.m "some of the combatants would break their fast at this late hour because of circumstances related to their assigned missions, especially those at the fronts and frontlines", according to them. The food tent has all kinds of sweets, canned foods, vegetables, and fruits…
We spent more than an hour and a half at this advanced post, where we felt we were in another world. "Abu Ali" whispers to a combatant accompanying us during our visit. He is senior Hizbullah official who has fought in most of its wars, and has privileged "al-Mayadeen" with a lengthy letter. He said that we have to go back to the rear line to preserve our lives, as militant groups fired artillery shells that were landing below the post.
"Thank God, we only need your prayers". This is how they bade us farewell, thanking "al-Mayadeen" for the visit.
Everyone returned to their weapons and military vehicles to return fire, and we quickly went back to where we came from, to another time, when the world is fine, and friends and family rest easy, safely. All this would not have been were it not for these combatants, positioned on the tops of mountains along Lebanon Eastern Mountain Chain. Seeing this you understand all the more what Daniel meant when he said that life is "over there".
A 1st rate official: "Israel" and the Takfiris are two sides of the same coin
"Abu Ali: a field commander who had participated in most wars, sent this letter especially to "al-Mayadeen":
We are a people that performs its duty in Jihad (combat) and see it as worship. As Sayed Nasrallah says, we will be wherever we must to defend our land and protect our families and our way of life, no matter the front, the battle, or the enemy. I, a combatant since 1982, have taken part in most of the resistance's battles since it was first conceived. I now believe that I am in the right place, and fight in the same spirit I fought with in 1984 because the goals and aspirations of Zionists are no different from those of Takfiris. We are as we are, keeping to our defense of our families, our home, and our existence. They, however, are many different sides in history. We never aggressed, because we were borne of a reaction at the beginning of the "Israeli" invasion of Lebanon. We, as a resistance movement, have always excelled on all fronts, and have made sacrifices to be as such. This granted us victory through the power of our will and our dependence on God, despite our lack of equipment and manpower in the beginning of our march.
Here, on this rocky, rugged land, I now remember those days when the "Israeli" enemy slaughtered our children and families during the occupation. Our enemy today wants to slaughter them with its backwards mentality. My mind wanders to the sight of the children of Qana, slaughtered by shrapnel shells, for no reason other than that they are a product of this environment, and of the hatred of the Zionist creed that says "kill and slaughter every child among them". This is common between them and these Takfiris. When you listen to some of their ignorant scholars who command, in the name of Islam, the slaughter of our children and people, even those from a different sect than ours. They have killed far more Sunnis than they have people of other sects. Another matter they share with Zionists is car bombs, mass murder, destroying homes, displacing civilians, occupying village, etc…As for the nature of the struggle the difference is great. The rules of engagement are very different. These people know nothing but cold blooded slaughter and mass murder in front of cameras. They would take us backwards. Hereat lies the secret of our resolve to keep on fighting them, and that is why we are here. The whole world knows this, even those we disagree with politically.
As for the situation now, the Syrian army and we are completely ready for a new round, and possibly the last, to root out their evil, and to set Lebanon, its people, and its land at ease from their danger. Rather rid humanity of them. For the past few days, we have conducted limited surprise operations to test their readiness, and have been able to secure three key highlands. Unfortunately, some Lebanese news outlets adopt their point of view, and contribute, willingly or unwillingly, in the spread of information and some questionable photographs to their benefit of operations targeting us. To them, and to everyone else, I say go back to your principles and your Lebanese nature, for these are people thirsty for blood. This is their creed and they do not set anyone apart. Do not be their tool, even if we may disagree in politics, because history will curse you, and you will be among those who have sold their country and their fellow man.
Source: