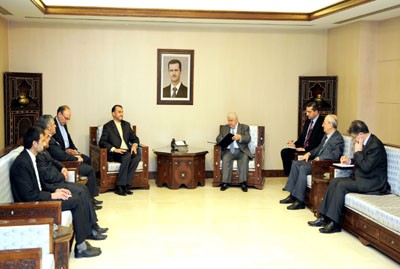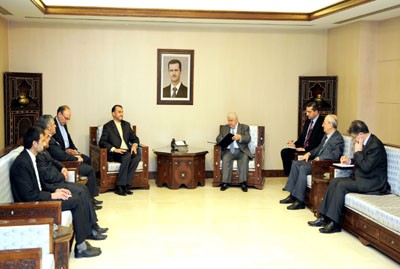 Foreign and Expatriates Minister Walid al-Moallem on Wednesday reviewed with Iranian Foreign Minister's Assistant Hussein Amir Abdel Lahian means of enhancing the bilateral relations between Syria and Iran.
The two sides discussed the developments in the regional and international arenas with al-Moallem briefing the Iranian Foreign Minister's Assistant on the current comprehensive reform program in Syria which is scheduled to be fulfilled within definite period of time.
Al-Moallem stressed Syria's determination to hold national dialogue, indicating to the aggressive attack against Syria, the Syrian people and the state institutions by foreign-backed armed terrorist groups.
For his part, the Iranian Foreign Minister's Assistant underlined his country's keenness on stability in Syria, the independence of its decision, reiterating support to the current reforms taking place in the country.
He expressed confidence that Syria's leadership and people will overcome the current situation.
In the same context, Deputy Foreign and Expatiates Minister Fayssal Mikdad Ahmad Arnous and the Assistant Foreign and Expatriates Minister Ahmad Arnous met the Iranian guest where stress was laid on the deep Syrian-Iranian relations.