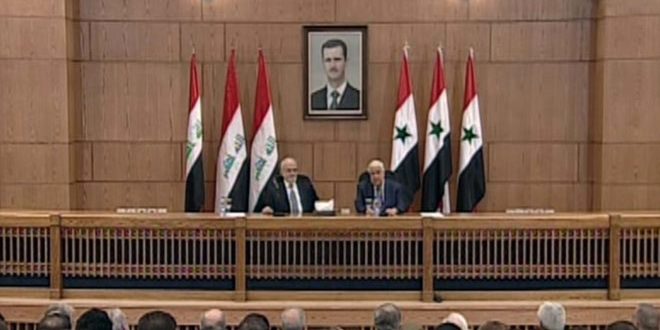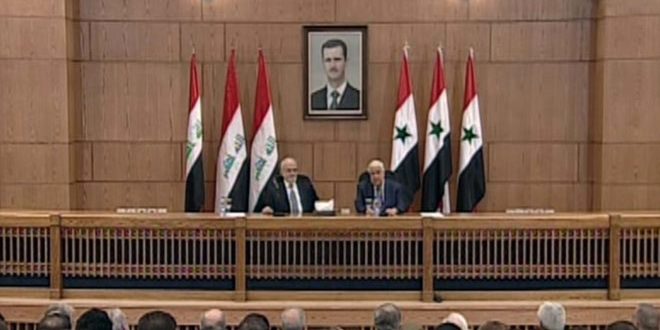 The Syrian Foreign Minister Walid al-Moallem stressed during a press conference with Iraqi Foreign Minister Ibrahim al-Jaafari that Iraq and Syria started to sense the tangible victory over terrorism in the two countries thanks to the steadfastness of their peoples.
For his part, al-Jaafari said "My visit to Syria is significant as I sensed the stability and security after its victory over terrorism."
"The Syrian-Iraqi relations are historic, solid and strong and will remain likewise," al-Jaafari added.
He affirmed that Syria has overcome many of the crises which faced it and it has remained steadfast in the face of terrorism and achieved victory.
The Iraqi official asserted that nobody can marginalize Syria due to its pivotal role in the region.
"Coordination is continued between Syria and Iraq in different domains, particularly in the field of water security and they have the right to make optimal investment of their water resources," al-Jaafari noted.
He continued that "closing the crossings between the two states came due to exceptional circumstances due to terrorism and they will be opened soon."
"Iraq appreciates Syria's support to it, and will not allow any foreign interference in its relations with Syria," al-Jaafari said.
Minister al-Moallem said: "Syria has its status in the Arab world and it should play its Arabic part; on this basis, we respond to any Arab or international initiative,"
The Minister hoped that the al-Boukmal border crossing with Iraq would be re-opened soon after its closure due to terrorism.
He pointed out that Idlib- just like any area in the country- will be definitely restored and return to the Syrian sovereignty, adding that if the agreement on Idlib is not implemented, the Syrian state will take other choices.
Al-Moallem stressed that the Armed Forces in the vicinity of Idlib are ready to eradicate terrorism if the agreement on Idlib is not implemented.
"Nusra Front terrorist organization is on the list of terrorism in the United Nations and it must be eradicated from its last stronghold in Idlib," al-Moallem continued to say.
He added that the USA has destroyed al-Raqqa Province under the pretext of fighting members of ISIL terrorist organization and it continues to support this terrorist organization and evacuate its members to the east of the Euphrates in implementation of its aggressive schemes in Syria.
al-Moallem said that any proposal for federalism contradicts the Syrian Constitution and those who demand it should learn from the lessons of the past.
He emphasized that Syria 's decision is to restore its sovereignty over its entire territory.
Minister al-Moallem said: "After the liberation of Idlib from terrorism, our goal is east of the Euphrates."