Syria
Al-Moallem to Ban Ki-moon: Need to prioritize combating terrorism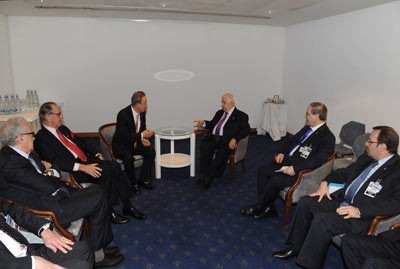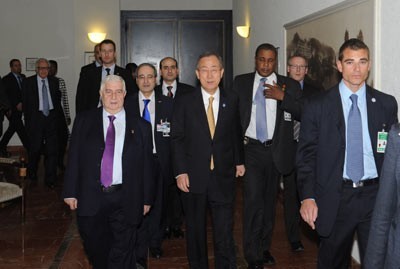 Deputy Prime Minister, Foreign and Expatriates Minister Walid al-Moallem, met UN Secretary-General Ban Ki-moon and discussed with him the UN efforts to hold the international conference "Geneva 2" for finding a political solution for the crisis in Syria.
Al-Moallem, who is the head of the Syrian Arab Republic's official delegation participating in Geneva 2, stressed during the meeting with Ban the need to prioritize combating the terrorism affecting Syria at the hands of armed terrorist groups which receive foreign funding, arming, and training from foreign sides which also facilitate the entry of extremist fighters from over 83 countries into Syria, saying that this is necessary to give credibility to any political process aiming to resolve the crisis in Syria.
He hoped that Geneva 2 will represent a platform for launching dialogue among Syrians in Syria, thus allowing them to reach agreement on the future of their country.
Al-Moallem said that the success of inter-Syrian dialogue requires ensuring that the Syrian opposition and all components of Syrian society are represented in this dialogue to guarantee that it will produce results meeting the aspirations and expectations of the Syrian people.
The Minister stressed that the UN inviting only a single group claiming to represent the opposition while it actually represents none among the Syrian people, in addition to inviting countries with known positions against Syria, and recanting the invitation of Iran do not constitute a step in the right direction; rather this is a mistake made by the UN General-Secretariat which should be corrected.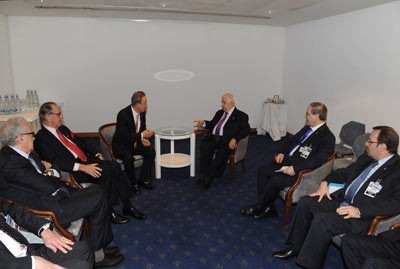 For his part, Ban stressed the importance of the Syrian official delegation's participation in the conference and its work to contribute in a positive manner to launching dialogue among all Syrian sides in order to reach a political solution meeting the aspirations of the Syrian people.
Ban asserted that the Syrian people are the ones who will decide upon their country's future.
The meeting was attended on the Syrian side by Deputy Foreign and Expatriates Minister Dr. Fayssal Mikdad, Assistant Foreign and Expatriates Minister Hussam Eddin Alla, and Syria's Permanent Representative to the UN Dr. Bashar al-Jaafari.
On the UN side, the meeting was attended by UN Deputy Secretary-General Jan Eliasson, UN Envoy to Syria Lakhdar Brahimi, and UN Assistant Secretary-Generals Valerie Amos and Jeffrey Feltman.