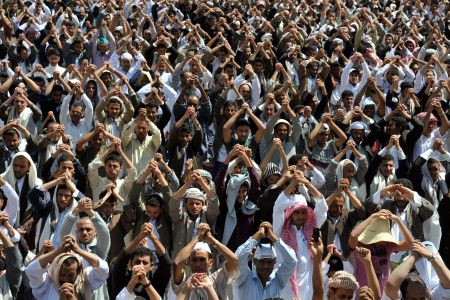 Al-Qaeda cannot play any significant role in Yemen's popular revolution since Yemeni people defy beliefs of the terrorist group and demand democratic changes, a political analyst says.
"Al-Qaeda is not a key factor in Yemen," said Syed Ali Wasif in a Press TV interview Monday.
The US and Saudis are trying their best to deviate attention from the Yemeni opposition forces and "meet their interests" … "by playing al-Qaeda card," however, "That will not happen," he pointed out.
Wasif also rules out the possibility that the death of al-Qaeda leader Osama bin Laden may have any influence on the current developments in Yemen, saying the terrorist leader "has nothing to do with the fundamental changes being asked for by the opposition groups on the streets."
Obama announced earlier on Monday that bin Laden was killed by US forces on Sunday after he was found hiding in a compound in Pakistan.
"Osama bin Laden has been history for a while now and the people have rejected his legacy of terrorism and hatred. The people are showing a democratic desire for change, they are not resorting to bloodshed or terrorism led by the Saudi regime itself," he argued.
Inspired by the revolutions in Tunisia and Egypt, anti-government protests began to sweep Yemen in January.
Yemeni President Ali Abdullah Saleh has been in office for more than three decades, with several opposition members arguing that his long-promised political and economic reforms have not materialized.
Over 300 people have been killed and scores of others wounded during armed attacks by Saleh loyalists since the beginning of the popular revolution in January.