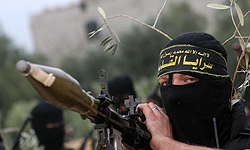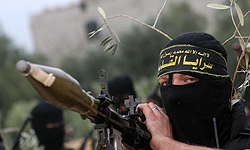 The Palestinian Islamic Jihad's Al-Quds Brigades condemned the recent Israeli air raids on the defenseless Palestinians in the Gaza Strip which have killed at least five Palestinians over the past 24 hours, and vowed that the attacks will be retaliated with a crushing response to the Zionist regime.
"Al-Quds Brigades is committed to taking revenge and supporting the children of the Palestinian nation irrespective of their political affiliations," Al-Quds Brigades Spokesman Abu Ahmad told Ma'an news agency on Sunday.
He reiterated that Al-Quds Brigades and Ezzedeen Al-Qassam Brigades, the military wing of the Palestinian Hamas Movement, are ready to respond to any stupid Israeli move against the Gaza Strip.
"We (Al-Quds Brigades) and Al-Qassam Brigades are at the highest level of readiness for giving a response to the Zionists' aggressions," Abu Ahmad said.
Spokesman of Ezzedeen Al-Qassam Brigades, Abu Obadiah, also said on Sunday that "carrying out joint military operations between Al-Quds and Al-Qassam Brigades indicates the high level of coordination between them."
The air raids by Zionist regime's jets on Sunday and Saturday killed five Palestinians in Gaza.
Hamas officials, including its former Political Bureau Chief Khalid Mashaal have on many occasions stressed that resistance of Palestinian groups would continue until the ultimate removal of the Gaza siege and re-opening of crossings into the territory.
The siege of Gaza started in June 2007 when Israel imposed a blockade on the Gaza Strip. This was supported by the governments of Egypt and the US.
The blockade consists of a land blockade along Gaza's borders with Egypt and Israel and a sea blockade. It immediately followed the 2006-2007 economic sanctions against the Palestinian National Authority following the election of Hamas to the Palestinian government.