Africa
Al-Shabaab flees key Somali town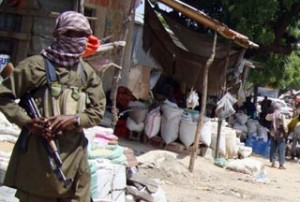 Somalia's most powerful militant group al-Shabaab has been forced to leave Eldher, a town in the central Somali region of Galagaduud, residents say.
According to eyewitnesses, al-Shabaab fighters had left the town, located 350 kilometers the north of the capital Mogadishu, after pro-Somali government militia, Ahlu Sunna Wal-Jamaa, made military advance into the town.
It is not clear why the militant group left the town so easily but residents attribute it to report that the pro-government militia fighters were planning to attack the town, a Press TV correspondent reported.
Shortly after the town's takeover, sporadic gunfire could be heard in the outskirts of the town but no casualties have been reported.
Residents also told our correspondent that Ahlu Sunna fighters have captured another town in Galagaduud region called Ceel-Dheer.
Ahlu Sunna fighters are taking over 10 bases of al-Shabaab with heavy weapons in Galagaduud region.
Sheikh Abdi Risaq al-Qaadi, a spokesman for Ahlu Sunna, have praised Ahlu Sunna fighters and claimed they have captured several bases.
The two groups have been engaged in deadly power struggle in the central region where both sides have large swathes of the region under their control.
Somalia has been without an effective central government for more than 18 years.