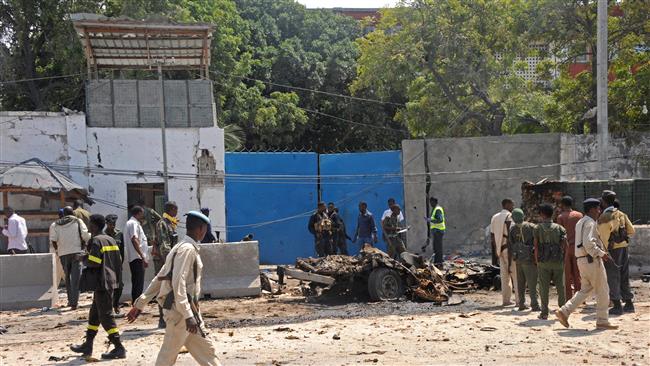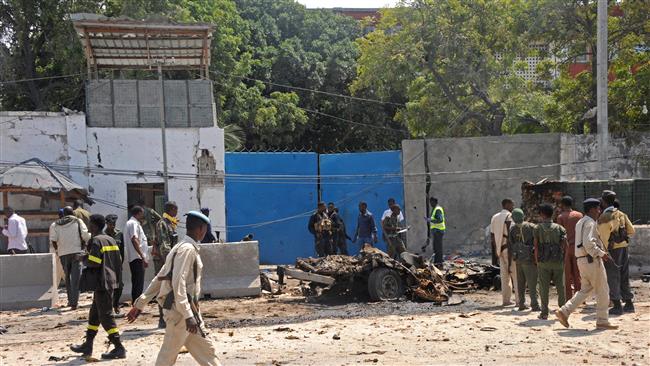 At least 10 people, mostly civilians, have been killed after militants with the al-Qaeda-linked al-Shabab terror group launched a car bomb attack on a beach restaurant in the Somali capital, Mogadishu.
According to local police officials, the militants initially detonated the car bomb outside the compound before opening fire on the restaurant close to the Turkish embassy in Mogadishu on Thursday night.
All the "attackers have been gunned down and the restaurant is now under the full command of the Somali government soldiers," regional police commander Colonel Abshir Bishaar told local media.
The casualties comprised six civilians, two members of the security forces and two of the attackers, said Ali Abdullahi, anorther police officer.
Residents near the scene of the attack said the shooting could be heard all night. Witnesses said they had seen two bodies lying on the ground.
A spokesperson for Mogadishu's mayor said in a press statement that security forces had captured one of the bombers alive.
Internal Security Minister Abdirizak Omar Mohamed warned residents to stay indoors.
Al-Shabab claimed responsibility for the attack. The terror group has carried out a series of deadly attacks in Somalia to try to overthrow the government.
On August 21, more than 20 people were killed when two bombs hit a local government headquarters in Somalia's semi-autonomous Puntland region.
Somalia has been the scene of deadly clashes between government forces and al-Shabab militants since 2006.
The group has been pushed out of Mogadishu and other major cities by government and African Union troops but continues to carry out attacks in Mogadishu.