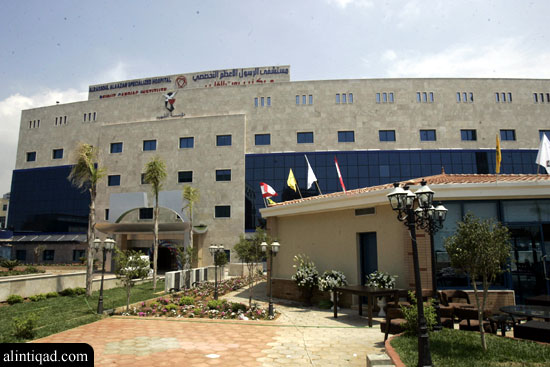 Martyrdom, some consider it a goal, others a value one cannot desert.
It has become part of our culture, a graceful culture which has succeeded repeatedly in defending its lands and dignity.
The blood of the martyrs are too valuable to be measured, part of them is why we are still alive, why Lebanon still breathes its four season winds.
Since the "Israeli" enemy stepped foot in Lebanon, resistance movements started to appear one at a time, all aiming at defeating the so-called "undefeatable" army.
As a result, the first martyrs in Lebanon started to appear, and thus adjusting pride to Lebanon as a resisting country.
As martyrs pass away, their memories never fade, and remain especially in the mind and heart of their families and loved ones.
To guarantee the martyr's rights after their martyrdom, Hizbullah sought to establish a foundation concerned with the martyrs of the "Israeli" aggressions.
In the year 1982, a group of young men focused on forming a gathering through which they counted down the martyrs after the "Israeli" aggressions, and a while later, the Martyr Foundation, known as Al Shaheed Foundation, was born.
Because the martyrs were the ones who made Lebanon's victory, Hizbullah believed it is their duty to provide their families with the best life possible after they lost an important element of their being.
The official name was then announced in the year 1989, after the foundation was officially rolled in the Lebanese organizations, under the name Al Shaheed Charitable and Social Foundation.
Al Shaheed Foundation is mainly concerned with providing an overall care and custody to the martyrs' children and families on the different levels, whether the social, educational, spiritual, or health, as well as on many other aspects that are basic needs for human beings to survive in the society, says Al Shaheed Foundation's Media Official, Mohammad Husseini.
The children of the martyrs are blessed with the presence of Al Shaheed Foundation, for it mainly tries its best to enhance these children's abilities, in order to help them in return of the sacrifices which their fathers have given.
Moreover, Media Official says that Al Shaheed Foundation goes deep in those children's lives so that nothing would remain vague to them until they are old enough to become independent and move forward on their own.
Scholarships, best educational associations, universities, in addition to post graduate studies and work, are tackled in the Foundation's course of work.
As Al Shaheed Foundation was considered to be a charitable and social association, it is sought to also establish other firms and institutions to help the people of Lebanon in general.
On the educational level, the foundation established schools for charitable causes, not only special for the children of the martyrs, but also those whose social status is not very fortunate.
On the other hand, Al Shaheed Foundation also established Al Rasoul Hospital to be one of the most developed hospitals in Lebanon, providing the best service to the Lebanese.
After achieving great runs in its work, Al Shaheed Foundation considered developing its work and training its own crew, including children of martyrs, who once were part and took use of these firms.
Almost three decades have passed since the foundation's establishment, and throughout this time, it has succeeded in achieving most of its aims in the development of Lebanon.
Al Shaheed Foundation demonstrated nothing in its work but the best for the interests of Lebanon, which is precisely what the United States of America believes as a major threat.
During George W. Bush's era, Al Shaheed Foundation was rolled in the list of terrorist organizations; an act which did not represent a surprise in Lebanon, as the US cares for nothing more than "Israel's" security.
According to Mohammad Husseini, the foundation was not really affected by such an announcement, but in fact, its work efficiency and efforts increased in order to provide as much developments possible in their fields of work.
The Zionist entity always aims at demolishing Lebanon's security, stability and freedom. On this level, as Al Shaheed foundation represents a side responsible for the development of the martyrs' families lives, "Israel" would aim at deteriorating this innocent image in the world.
A Martyr is the pride of our country, and having an association responsible for looking after what the martyrs left behind, it is a pride the Lebanese should hang on to and fight for.
Al Shaheed Foundation is still seeking for giving more for its people of its nation, presenting all kinds of support, aid, and developing methods.
The memory of the martyr is engraved in our minds, hearts, and souls, and no matter how much other sides try to deteriorate that image, as long as there are foundations as Al Shaheed Foundation, there will always be hope.