Bahrain
Al-Wefaq Asks Int'l Society to Force Al-Khalifa to Hold Referendum on Ties with Israel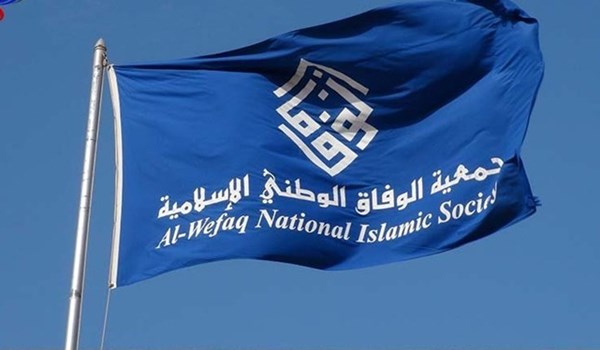 Bahrain's main opposition group, the al-Wefaq National Islamic Society called on the UN and other international organizations to pressure the al-Khalifa regime to ask the Bahraini people's view about normalization of relations with Israel.
In a statement on Saturday, al-Wefaq, Bahrain's largest opposition group, condemned the government's decisions which contradict the country's constitution, the Bahraini public opinion's views and national values, and stressed that the Bahraini nation should be allowed to state its own view.
"If the tools of suppression did not exist, the world would witness that 95% of the Bahraini people would voice their opposition to agreement and normalization of ties with the Zionists," it added.
Meantime, polls and reports show an overwhelming majority of Arab nations are critical of normalization with Israel.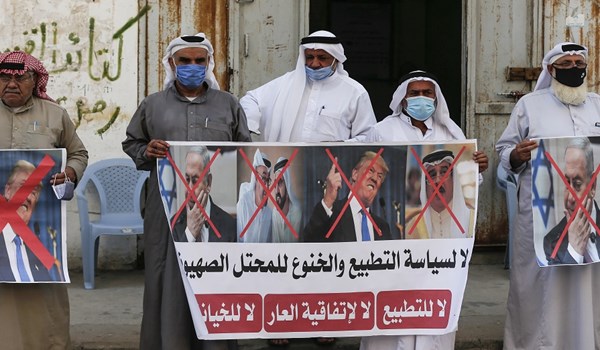 A recent poll conducted by the Arab Center for Research and Policy Studies in Doha showed that an overall 88% of the Arab world population in 13 key nations strongly reject recognition of Israel, revealing that the number stands at as high as 99% in some states.
The poll indicated that Algeria with 99%, Lebanon with 94%, Tunisia and Jordan with 93% rank as the first four nations standing strongly against normalization of ties with the Zionist regime.
The result showed that the nations viewed Israel as the primary threat their country was facing.
When asked whether they would "support or oppose diplomatic recognition of Israel by your country" only respondents in Saudi Arabia and Sudan came in at less than 80 percent for "oppose".
The survey also shows a strong opposition to Israel among the Perian Gulf Arab staes where 90% of people in both Qatar and Kuwait are against a recognition of Israel. In Saudi Arabia 65% have voiced opposition to Israel, while 29% more have reserved an answer.
In Sudan, an Arab African nation that is under much pressure by the US to recognize Israel, 79% have rejected any recognition of Israel, while just 13% of respondents have agreed to normalization.
Even in the two countries that already recognize Israel – Jordan and Egypt – opposition was very high, at 93 percent and 85 percent, respectively.
The survey results shows that respondents opposing a recognition of Israel are driven by different reasons, including the racist policies of the Zionist regime and continued occupation of the Palestinian lands.
The 2019-2020 Arab Opinion Index was based on face-to-face interviews conducted with 28,000 individual respondents across 13 Arab countries, including Jordan, Palestine, Lebanon, Egypt and Mauritania, between November 2019 and September 2020.
Thousands of people in the Arab states have so far staged rallies, denouncing the recent agreement between the UEA and Bahrain and Israel to normalize ties.