Syria
Al-Zoubi : We have clear directives from President al-Assad to work for the success of political track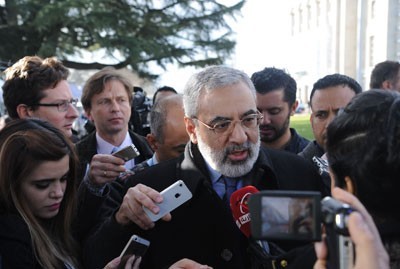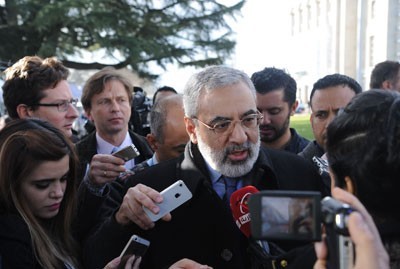 Information Minister Omran al-Zoubi said Friday we are in Geneva because we want to defend our country and people, it is important to move the wheel of a serious discussion.
The Minister added in a statement to journalists : " We are insisting on the success of the political track and we have no intentions to complicate it", affirming : " We have clear directives from President Bashar al-Assad to work for the success of this track",
Minister al-Zoubi said : " We came to Geneva with an open mind and a free, sovereign and independent national will and no one, neither major countries and institutions, nor regional states, can dictate its language and conditions on us at all", adding "There is no meaning for any political process or step as long as guns and swords are still put on the necks of the citizens",
The Information Minister stressed : " The dialogue in Damascus is going on and we will work to deepen it with all opposition parties which weren't invited to Geneva conference",
He said: " The Syrian Arab Republic official delegation agreed to come to Geneva2 for a discussion with the opposition forces but it is obvious that the opposition is not represented entirely in Geneva, there is a partial, very narrow and simple representation", affirming that Syrian state's political will of conducting dialogue with the national opposition forces will remain.
20140124-170853.jpg
Al-Zoubi pointed the existence of a large-scale mass media campaign, by modern communication devices, waged against the Syrian official delegation and the reports and footages broadcasted by Qatar in addition to some statements about stepping down, saying that all this fall under what may be called " the black political comedy".
The information minister said that this reflects the tremendous confusion of the other side, whether the part of coalition which came to Geneva or others who did not come, or the opposition forces which U.S. State Department and Robert Ford refused to be present at the conference.
About media leaks on differences of the coalition delegation the so-called the opposition to regarding who will represent them, al-Zoubi said: "It is not important who will be present or who will head their delegation, adding : "Our human, national and political opinion towards some its figures is known," inquiring whether they have real political and national will, this is a suspicious matter".
Al-Zoubi expressed astonishment over statements of those who call themselves opposition, whether those present in Geneva or outside it, saying that they are living in another world of dreams and illusions.
" Some of them, until now, say the Syrian delegation to Geneva will sign with us on stepping down and handing over the power" this is a fabulous speech and reflects political childhood , delirium and adolescence," he added.
The Minister went on to say that, certainly, the dialogue process will not succeed in this way whether in Geneva or any other place in the world as long as the two sides haven't enjoyed a true political reality.
Al-Zoubi stressed that President al-Assad will complete his constitutional term in accordance with the Syrian Constitution, which allows him to run again and this is indisputable issue.
" In the upcoming elections there could be other candidates according to the constitutional amendments as these elections will be transparent and democratic then who will gain the elections will be Syria's president," the Minister said, underling that the other side does not want that for fears." You can ask them why they are afraid of the polls,"
" The condition of stepping down and talks about transitional government are illusions, the Foreign and expatriates Ministry has informed Brahimi and UN Secretary-General Ban Ki-moon of its reservations on this item,"
The Minister demanded those who are interested in and support Geneva 2 to further push towards a logic, realistic and serious political debates.
" Syria is exposed to a large-scale systemized war and terrorists aggression led by intelligence apparatus and states, " al-Zoubi said, calling on all mass media and journalists to come to Syria to be briefed closely on the reality of the situation.