Middle East
Syria
Aleppo: Several People Killed, Injured in 6 Consecutive Blasts in Turkey-Controlled Regions
Over 40 people, including terrorists, were killed and wounded in half a dozen explosions in areas held by the Turkish Army North of Syria's Aleppo province.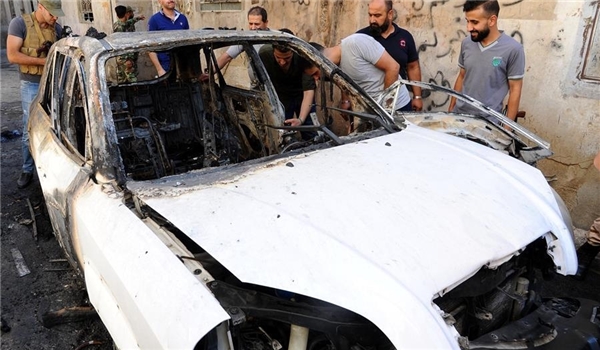 The Syrian Observatory for Human Rights (SOHR) reported that five consecutive blasts rocked a region near the city of al-Bab near Omar Mosque, al-Ghandoureh town and Tal Batal town in Northeastern Aleppo as well as the city of Izaz and the town of Akhtiran in Northern Aleppo.
The SOHR also said that three people were killed and 38 others were injured in the explosions.
Meantime, the Kurdish-language Bas News website reported that a terrorist commander was killed and three others were wounded in a very strong explosion of a bomb-laden car in the town of Meidanki in Northern Aleppo.
The infighting among the Ankara-backed militants in Jarablus region in Northern Aleppo left a number of them dead and injured.
In a relevant development on Wednesday, the Kurdish-language media outlets said that the "ISIL terrorists are present in areas controlled by the Turkish Army in Northern Aleppo".
The Kurdish-language Hawar News quoted local sources in Northern Aleppo as saying that the ISIL terrorists are stationed in Ankara-controlled regions in Northern Aleppo under names of terrorist groups backed by Turkey.
The sources released a photo of ISIL flag mounted on the vehicles of a member of Shohada al-Sharqieh which is affiliated to Turkey in the city of Jerablus is Syria, and said that the Ankara-controlled regions in Northern Aleppo have turned into safe zones for the ISIL terrorists.