Syria
Aleppo stepping toward full liberation thanks to Syria army gains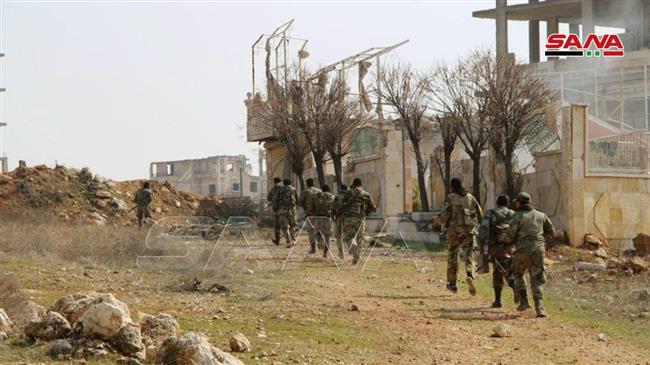 Syrian government forces, backed by allied fighters from popular defense groups, are apparently riding high following the liberation of more areas from the clutches of terrorists in the northwestern province of Aleppo.
Syria's official news agency SANA reported on Friday that troops and their allies regained control over the village of Urum al-Sughra, which lies in Atarib district.
Operations also continued Friday for the liberation of the town of Urum al-Kubrah and its environs.
Syrian forces retake main Aleppo-Damascus highwaySyrian forces manage to wrest control over the entire key highway connecting the country
West of Aleppo in al-Rashideen 4 area, army bomb disposal units are working to spot and defuse hidden improvised explosive devices and landmines.
There, a network of underground tunnels and hideouts previously used by militants has been uncovered.
On Thursday, Syrian army units managed to wrest control over Kafar Joum village besides Mohandessin 1 and 2 areas in western Aleppo following clashes with members of the Jabhat Fateh al-Sham Takfiri terrorist group, formerly known as the al-Nusra Front.
Turkish-backed militants down Syrian Air Force helicopter in Idlib
Meanwhile, a Syrian military source told SANA that Turkish-backed terrorists had shot down a government helicopter west of Aleppo.
Syrian army gains control of 600 sq.km., several towns, villages in Aleppo, Idlib: StatementSyria
The source, speaking on condition of anonymity, said the aircraft was targeted by a hostile missile at around 13:40 local time (1140 GMT) on Friday, as it was flying in the skies over Urum al-Kubrah.
The source blamed the attack on Turkish-backed militants, noting that crew members on board the helicopter were killed.
On Wednesday, Erdogan said Turkey's military would strike Syrian army forces by air or ground anywhere in Syria if another Turkish soldier was hurt in Idlib.
Turkey threatens to hit Syrian forces 'everywhere' if troops hurtTurkish President Recep Tayyip Erdogan threatens to target Syrian forces "everywhere" and "by any means" if Turkish troops in Syria are harmed.
Erdogan said Ankara was determined to push Syrian government forces beyond Turkish observation posts in Idlib by the end of this month.
Later in the day, an official at the Syrian Foreign Ministry dismissed as hollow Erdogan's threats of a military operation in Idlib, stressing that they have been made by someone detached from the realities on the ground.
Erdogan threats of military force against Syria hollow, made by someone detached from reality: OfficialA Syrian official has rejected Erdogan's threats of military force against Syria as hollow, saying they have been made by someone detached from reality.
The source said such statements are simply made by someone who does not understand the changing developments.
The diplomat further highlighted that the Syrian government is fairly determined to perform its national and constitutional duties as regards the campaign against terrorist groups across the country, and to open up a humanitarian corridors for the exit of civilians as Turkish-backed militants prevent their departure and take them to use as human shields.