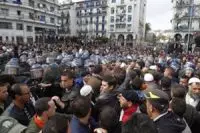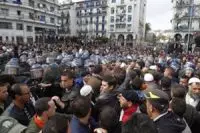 Algerian Police have beaten young demonstrators protesting against unemployment and job insecurity in the North African country.
A statement released by Ahmed Betatache, the head of the opposition Socialist Forces Front (FFS), said on Sunday, "This morning, almost 200 young people gathered peacefully outside parliament to make MPs aware of their difficult situation. Police beat them with their batons".
The statement added at least seven protesters were arrested by security forces.
Algeria has a high rate of unemployment, with government figures showing that 10 percent of the workforce is out of job. Activists have maintained, however, that the jobless figures are much higher.
Algeria has witnessed continued protests over unemployment during the past months.