Africa
World News
Algerians protest against President Bouteflika
Thousands of Algerians have staged a protest in the capital, Algiers, against ailing President Abdelaziz Bouteflika's decision to seek a fifth term in office, a day after he warned of the risk of "chaos."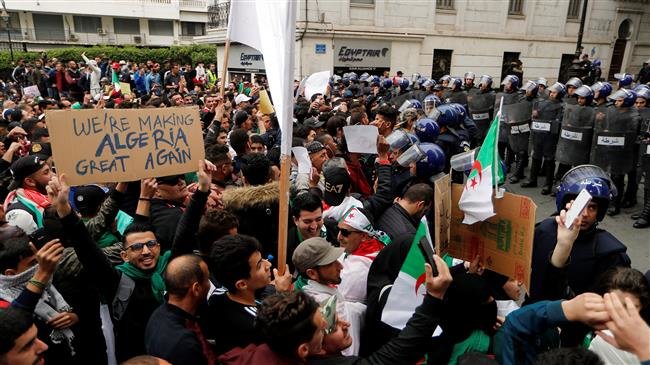 The protesters gathered at Algiers' landmark Grand Post Office Square on Friday, waving the country's green, white, and red national flag and waving banners that read "Bouteflika, go!" and "No elections" until the regime is brought down.
The demonstration took place amid tightened security measures, with anti-riot police vehicles and a water cannon deployed. A police helicopter was also seen flying over the city.
Train and metro services in the capital were also suspended on Friday.
Bouteflika called for vigilance on Thursday, saying foreign or domestic groups may seek to stoke chaos in the North African country.
"Breaking this peaceful expression by any treacherous internal or foreign group may lead to sedition and chaos and resulting crises and woes," he wrote in a letter on Thursday, without mentioning opposition demands that he abandon his bid for another term.
President Abdelaziz Bouteflika, who is facing protests against his bid for a fifth term in office, warns of chaos in Algeria as he invokes decades-long civil war in the country.
Bouteflika's letter came as some 1,000 lawyers took to the streets of the capital on Thursday saying his poor health had to disqualify him from the upcoming elections.
The country's leaders "will not give in easily, but we won't either," said a taxi driver, summing up the popular mood. He said the first Friday of protests saw less than half the residents of his district of Algiers take part in the demonstrations. "On March 1, about two out of three said they would march, and (now) 100 percent of people are saying they will be out on the streets," he claimed.
'Ruling party lawmakers support protesters'
Several lawmakers of the ruling FLN Party also resigned to join the mass anti-government protests, the private Ashourouq TV station reported Friday. No more details were immediately available.
Anti-government protests first erupted in Algeria on February 22 over the 81-year-old Bouteflika's bid to extend his 20-year rule.
Bouteflika is running in the April 18 presidential election in spite of doubts over his health condition. He has been seen in public only a few times since he suffered a stroke in 2013. Bouteflika flew to Switzerland on February 24 for what the presidential office called "routine medical checks" ahead of the vote.