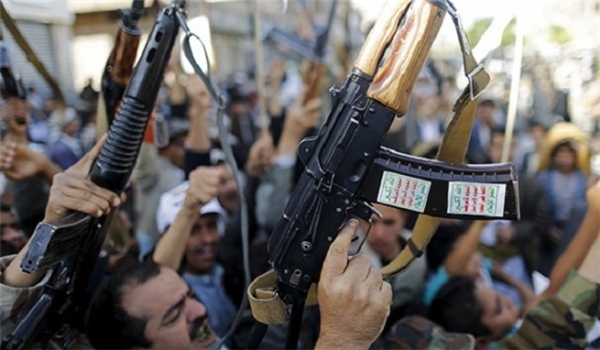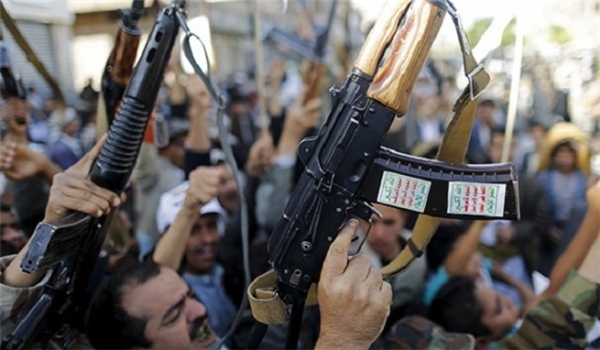 Ansarullah's military power to stand in two fronts against the al-Qaeda and ISIL terrorist groups has stunned Saudi Arabia, one of the movement's leaders said on Monday.
Jaber Ahmad al-Nuaimi referred to the Saturday grenade attacks against the positions of ISIL Takfiri terrorists in several parts of Yemen, and told FNA that "these attacks show that the resistance and Ansarullah are present everywhere and despite Ansarullah's being busy with suppressing the terrorists and militia supporting Mansour Hadi, it is ready for confrontation against the Saudi aggression with open eyes and resistance."
"Ansarullah's operations have been successful in obtaining all objectives in a way that several positions of the ISIL and pro-Hadi militia have been destroyed," he added.
Nuaimi underlined that different parts of Yemen can become a scene of popular forces' tough confrontation against the al-Qaeda or ISIL terrorists at any moment.
His remarks came as the Ansarullah fighters along with army units made fresh advances in the Southern Yemeni province of Aden on Sunday, killing large groups of Saudi-backed terrorists and militias.
The Ansarullah popular fighters made progress in several areas of Tawahi district in Aden and inflicted heavy casualties on al-Qaeda terrorists and pro-Hadi militants.
Also, Ansarullah leaders announced on Sunday the seizure of a large number of Saudi tanks and missiles sent to the Al-Qaeda and pro-Hadi forces in Yemen.
"Saudi Arabia has been sending weapons to the terrorists since months before starting the military aggression against Yemen," Ali Mohsen al-Buraimi told FNA.
"With the help of the army and revolutionary committees, Ansarullah seized several trucks carrying weapons through the Saudi-Yemeni land border," he added.
Buraimi said that the arms cargo included tens of missiles, tanks and even helicopters which were to be used by the terrorists and the militia supporting the fugitive president Mansour Hadi.
"Saudi Arabia is the source of terrorism and a supporter of terrorists in Yemen, but the Yemeni nation will stand against this aggression," he added.
Also on Friday, Ansarullah revolutionaries announced the seizure of a Saudi surveillance drone in the province of Sa'ada.
The Ansarullah revolutionaries captured the drone, which had parachute landed due to a technical fault, while patrolling the area on Friday.
Saudi Arabia has been striking Yemen for 40 days now to restore power to fugitive president Mansour Hadi, a close ally of Riyadh. The Saudi-led aggression has so far killed at least 3,163 Yemenis, including hundreds of women and children.
Hadi stepped down in January and refused to reconsider the decision despite calls by Ansarullah revolutionaries of the Houthi movement.
Despite Riyadh's claims that it is bombing the positions of the Ansarullah fighters, Saudi warplanes are flattening residential areas and civilian infrastructures.
On April 21, the monarchy declared end to Yemen airstrikes after five weeks of bombings, but airstrikes are still underway.