Africa
'All Nairobi mall hostages evacuated'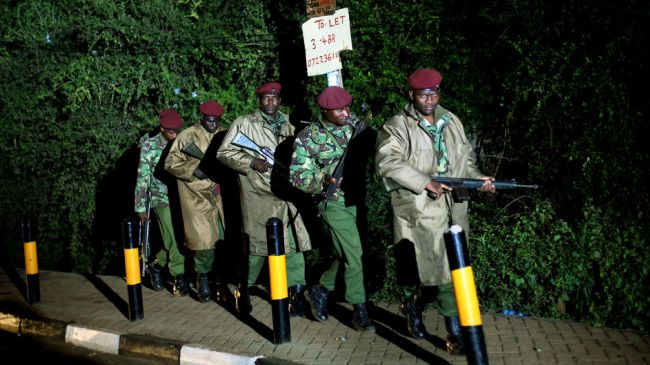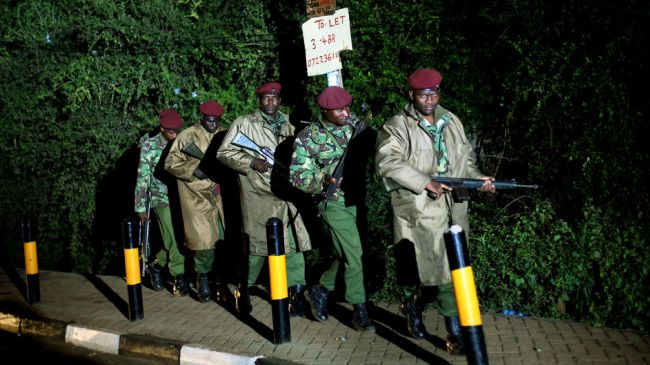 A Kenyan government spokesman says security forces may have evacuated all the hostages who were held captive by Somalia's al-Shabab fighters inside a partly Israeli-owned shopping mall in Nairobi.
Government spokesman Manoah Esipisu said on Monday that the three-day siege of Nairobi's Westgate shopping mall, which has left at least 62 dead and about 200 injured, was nearing the end, AFP reported.
Kenyan forces backed by Israeli agents launched a major assault on Sunday evening to end the standoff that started on Saturday when 10 to 15 al-Shabab militants stormed the mall from two sides, and warned the Kenyan government to withdraw its troops from their country.
"Our special forces are inside the building checking the rooms. Obviously it's a very, very big building," Esipisu said.
"We think that everyone, the hostages, have been evacuated, but we don't want to take any chances," he said. "The special forces are doing their job and yes, I think we are near the end."
"The special forces call this sanitizing. It's a very complex and very delicate operation," Esipisu said.
"At the moment they have not met any resistance, but of course we are not ruling out the possibility that there are a couple of them hiding in a remote room or corner," he added.
According to reports, the dead also included three British nationals, two French women, two Canadian citizens, including a diplomat, a Chinese woman, two Indians, a Ghanaian poet, a South Korean, a South African, and a Dutch woman.
On Saturday, al-Shabab fighters claimed responsibility for the assault.
"The Christian government of Kenya invaded our country in October 2011 killing many innocent civilians with their military jets," al-Shabab spokesman Sheik Ali Mohamud Rage said.
"We have warned Kenya of that attack, but it ignored (us), still forcefully holding our lands … while killing our innocent civilians," Rage said.
"If you want Kenya in peace, it will not happen as long as your boys are in our lands," Rage said in the statement.
Kenya has more than 4,000 army soldiers in southern Somalia, where they have been battling the al-Shabab fighters since 2011.
The Kenyan troops are part of the African Union Mission in Somalia (AMISOM) that gets training and equipment from the United States.
Somalia has not had an effective central government since 1991, when warlords overthrew former dictator Mohamed Siad Barre.