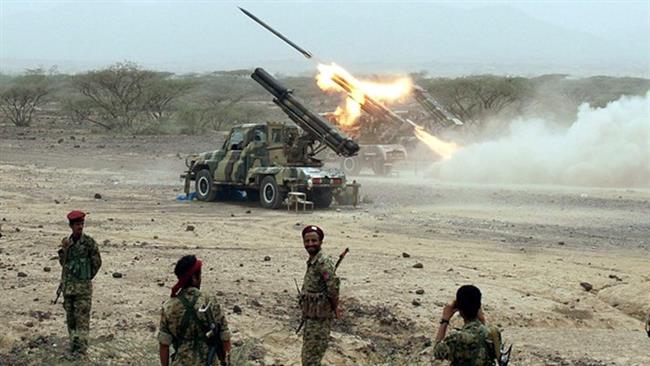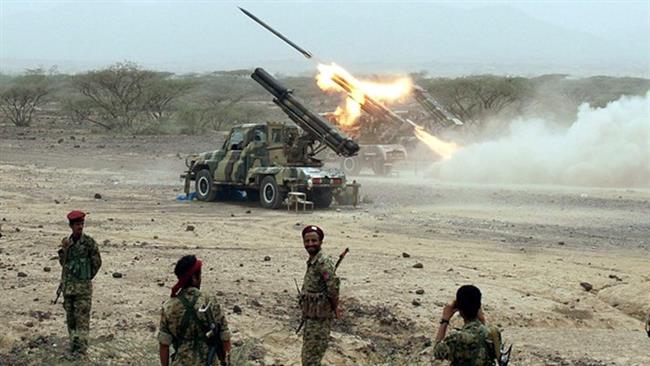 Dozens of Saudi soldiers have died after Yemeni army troopers, backed by fighters from popular committees, launched an attack against a military camp in Saudi Arabia's southwestern region of Najran.
The Saudi soldiers lost their lives when Yemeni forces fired a barrage of mortar shells at Quwwah base, which lies near the border with impoverished and crisis-hit Yemen, on Monday evening, Arabic-language al-Masirah satellite television network reported.
Separately, Yemeni forces and allied fighters launched a number of BM-21 Grad rockets at al-Mo'tan military base in the southwestern Saudi region of Jizan, sending flames and columns of smoke high into the sky. There were no immediate reports of casualties.
Several rockets also landed inside the al-Jalah military base in the same Saudi region, though no information on possible casualties and the extent of damage inflicted was available.
Elsewhere in Saudi Arabia, two military vehicles were destroyed as projectiles launched by Yemeni soldiers and popular committees' fighters struck the al-Jihad base.
There are also reports that Yemeni forces have seized control of the al-Dhaba military camp in Dhahran Asir region situated in the southwest of Saudi Arabia.
Yemeni army soldiers and fighters from popular committees initially sent mortar shells into the camp, forcing Saudi forces to flee. They later wrested full control of the military site.
Meanwhile, Yemeni forces have engaged militants loyal to the fugitive former president, Abd Rabbuh Mansour Hadi, in Yemen's southwestern province of Taiz, driving them out of Mashra'a and Hadnan districts.
On March 26, Saudi Arabia began its military aggression against Yemen – without a UN mandate – in a bid to undermine the Houthi Ansarullah movement and to restore power to Hadi, an ally of Riyadh.
Tarik Jasarevic, a spokesman for the World Health Organization, said on July 28 that 1,859 civilians were among the total of 3,984 people killed in Yemen until July 19. Local Yemeni sources, however, put the fatality figure at a much higher number.