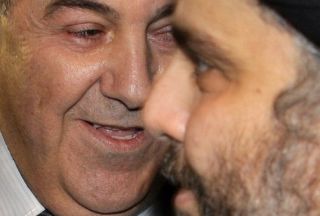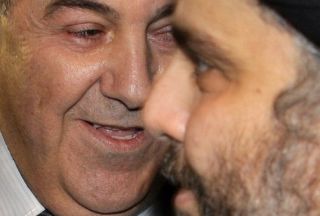 Former Iraqi premier attempts to mend fences with senior Muslim leader and influential political figure Moqtada al-Sadr in an apparent bid to reoccupy the post.
In a Monday meeting, Iyad Allawi discussed with Sadr the indecision that followed the March 7 parliamentary polls, Reuters reported.
Allawi's al-Iraqiya alliance narrowly won the key election but failed to secure an absolute majority and thus lacks the authority to appoint a government, where he would return as prime minister.
The meeting came in contrast to Allawi's previous criticism of the clergy and at a time when the support of Sadr's bloc, which came third in the elections, could give his slate the parliamentary majority it needs to form a government.
An Allawi aide, meanwhile, said Sadr's backing as well as the support of the two main Kurdish blocs could secure his premiership.
Sadr's views were "positive, showing care to preserve Iraq and accelerate forming a government," Allawi said. "Something I am sure of is that the Sayyed (Sadr) will honor his word."
The Muslim cleric, however, said, "I don't back specific names, but programs and mechanisms to arrive at the next prime minister."