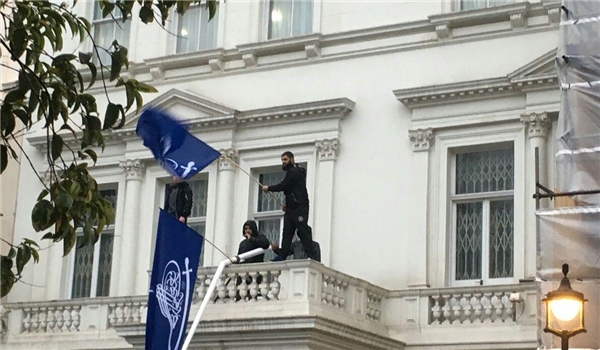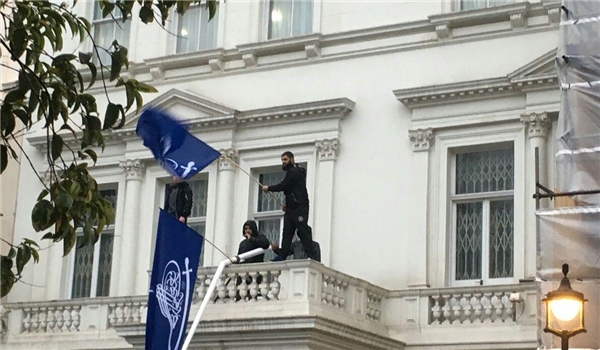 Iranian Ambassador to London Hamid Baeidinejad condemned the raid on the country's embassy in London by members of an extremist sect, and underlined that the British government should guarantee protection of the Iranian mission.
"The British government should ensure that the group which had masterminded the attack on the Iranian embassy has come under control and they are no more any source of threat," Baedinejad said on Sunday.
He, meantime, underscored that the highest-ranking British officials have contacted their Iranian counterparts in the first hours after the raid and condemned the attack.
"They assured us that they will adopt the necessary measures to protect our embassy and diplomats," Baedinejad said.
Several Britain-based Shiite extremists affiliated to Sadeq Shirazi sect attacked the Iranian embassy premises in London on Friday, while menacing the staffers with cold weapons.
Four men opened their way into the embassy premises at 16:30 local time, while threatening people on the scene with machetes and baseball bats. The London Police deployed around the embassy but took no action in the first couple of hours after the attack. Later reports said the attackers were arrested after three hours.
The slow pace of police measures against the attack enraged Tehran.
The Iranian Foreign Ministry on Saturday summoned the British Ambassador to Tehran to voice its strong protest at the UK over the Friday attack on the Islamic Republic's embassy in London.
"Following the attack by the followers of a Britain-based extremist sect on the Iranian embassy in London, Britain's Ambassador to Tehran Nicholas Hapton was called by the Foreign Ministry's Director-General for European Affairs this afternoon and the Islamic Republic of Iran's strong protest was conveyed to him," Foreign Ministry Spokesman Bahram Qassemi told FNA on Saturday.
At the meeting, Qassemi said, the Iranian foreign ministry official reiterated the need for the British government to comply with its inherent duties for protecting diplomatic persons and missions and elevate protection level for Iran's diplomatic centers.
"The British ambassador, for his part, voiced regret over the incident and reported the measures taken by his country's police and apprehension of invaders," the spokesman said, adding that the UK envoy vowed to inform London of Iran's protest to wire back his government's needed response to Tehran immediately.