Saudi Arabia
Middle East
Yemen
American hunger strikers demand US stop supporting brutal Saudi siege of Yemen
Going without food may seem extreme to some, but for many Yemenis, it is a part of daily life. Since Saudi Arabia began waging war on Yemen in 2015 and encircling it, huge swathes of the country have been facing chronic malnutrition. Now supporters abroad are refusing food as well in an effort to draw attention to Yemenis' desperate plight.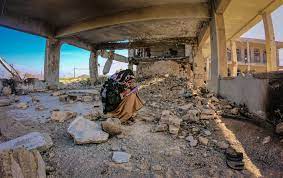 We are outside the White House, where activists with the Yemeni Liberation Movement have gathered to call for an end to US support for the Saudi-led siege on Yemen.
Many of them have decided to put their bodies on the line, and are now on day six of an ongoing hunger strike in solidarity with the Yemeni people starving under the blockade.
For the millions deprived of basic supplies like medicine and fuel, every day is a struggle for survival. According to UNICEF, over two-thirds of Yemen's population– more than 20 million people – is in need of humanitarian aid.
Meanwhile, activists say the US government has been working continuously to enable the Saudi aggression.
It has been nearly a week since they have eaten, and going without food is starting to take a toll. But these activists are determined to carry on, saying the situation in Yemen has gotten so bad that they simply have no other choice.