General
'Americans disapproving of both parties'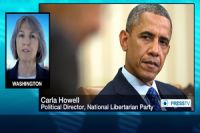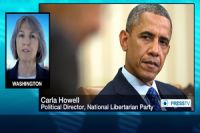 A political activist says Americans, especially the younger generation, have become "jaded and disapproving" of both Democrats and Republicans in the United States.
According to a new Washington Post-ABC News poll, Barack Obama's approval rating dropped to a new low Tuesday.
The poll showed that Obama's rating fell to 41 percent, down from 46 percent for the first three months of the year, bumping up against Obama's lowest ratings since April 2009.
Carla Howell, the Libertarian Party political director, told Press TV in a phone interview that reports of Obama's low ratings "cite the botched rollout of Obamacare as one reason" among others.
Howell believes that Obama's approval ratings are at this low because he "broke his promises" to the nation.
She said that both Democrats and Republicans are responsible "for a host of disappointments to the American voters."
Howell noted NSA spying and mass surveillance, high unemployment, endless wars, bailout of banks and big corporations, heavy school debt for students, rising costs and a devaluing dollar are among other reasons why Americans are disapproving of their political system. Obama's low approval rating is considered to be a worrying sign for Democrats facing legislative elections in November 2014.