Amid normalization efforts, Iran invites Egypt FM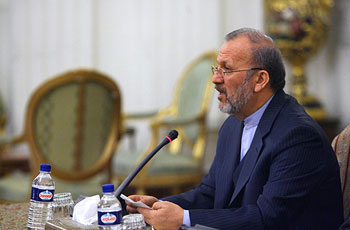 In what appears to be a step towards the normalization of relations between Tehran and Cairo, Iranian Foreign Minister Manouchehr Mottaki invites his Egyptian counterpart to the country.
"Mottaki invited Egyptian foreign minister (Ahmed Aboul Gheit) as head of the Non-Aligned Movement (NAM) to hold consultations about regional development," Iranian Student News Agency (ISNA) reported on Saturday.
"After the Cold War, the Non-Aligned Movement began to flourish. It is expected the NAM will play an increasing role in international issues," Mottaki said in a meeting with the new head of the Egyptian interest section in Tehran, Aleddin Hassan-Youssef, on Saturday.
Mottaki termed consultations between Tehran and Cairo about the Middle East as 'useful for regional states' and added that Iran's diplomacy is aimed at establishing confidence between the two sides.
He expressed hope that within the new global situation, Iran and Egypt would take steps to serve the interests of Muslim countries.
Diplomatic ties between Iran and Egypt were severed in 1980, two years after Cairo signaled of a peace treaty with Tel Aviv.
Despite their contrasting views, Tehran and Cairo took steps in 2007 to normalize their diplomatic relations.
Normalization efforts were put on hold in the wake of Israel's three-week long attack on the Gaza Strip, which left more than 1,400 Palestinians dead.
The Tehran government strongly criticized Cairo's complicity with Israel in the imposition of a crippling blockade on the costal territory that has caused a humanitarian crisis for Gazans.