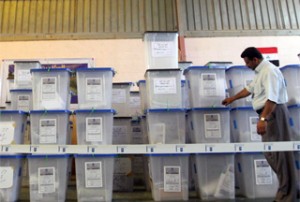 The full preliminary results from Iraq's recent parliamentary elections point to the victory of the coalition led by former premier Iyad Allawi over its main rival and incumbent Prime Minister Nouri al-Maliki.
Securing 91 seats in the 325-member Council of Representatives, two more than those won by Maliki's State of Law coalition, Allawi's secular al-Iraqiya Alliance came victorious out of the March 7 elections, Iraqi electoral officials announced on Friday.
More than 6,200 candidates from six major coalitions and several other tribal and ethnic minority groups vied for the parliamentary seats on March 7, with Allawi and Maliki deemed as the main contenders.
Prior to the announcement, Maliki supporters took to the streets, echoing the call by the premier and President Jalal al-Talabani who had requested recount of the ballots.
Maliki, meanwhile, says that the results are not yet final, AFP reported.
This is while the United Nations representative in the country called the electoral process "credible" and a "success" and urged the candidates to "accept the results."
Simultaneous blasts have rocked north of the Iraqi capital, claiming the lives of at least 42 people prior to the announcement of the preliminary results.
Violence continues to take its toll on Iraqi civilians, nearly six years after the US-led invasion of Iraq. Some 136 attacks reportedly killed at least 37 people on Elections Day on March 7.
Prior to the voting process, Iraq's senior leader Muqtada al-Sadr urged the Iraqi electorate to help end the US-led occupation of the country by attending the polling stations.