Africa
Palestine
World News
Amid warming ties with Chad, zionist occupation regime eyes normal ties with Sudan, other Africa states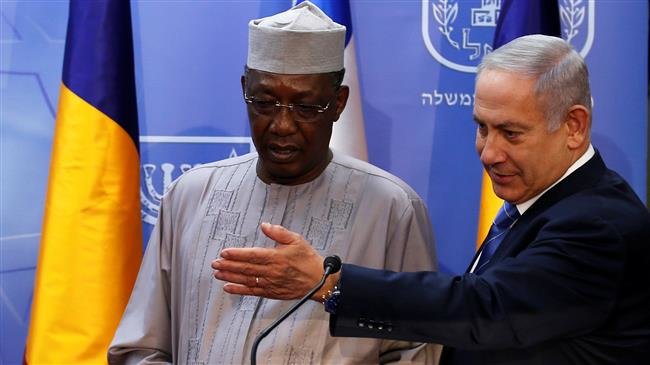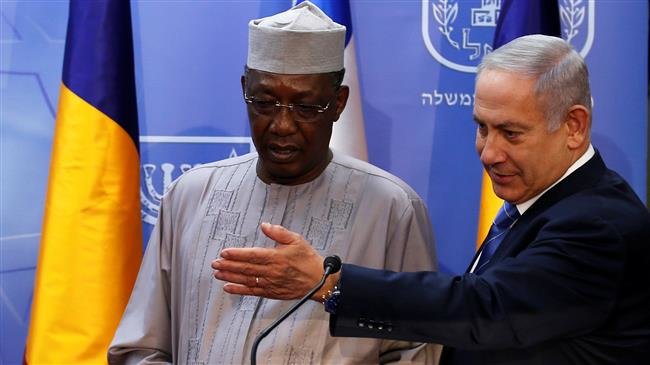 Amid warming relations with Chad, Israel is reportedly working to normalize relations with Sudan and other African states as the regime steps up its push to strengthen its foothold in the continent.
A senior Israeli official told Channel 10 TV channel that a visit on Sunday by Chadian President Idriss Deby to the occupied territories was laying the groundwork for normal ties between Tel Aviv and the Muslim-majority African states of Sudan, Mali and Niger.
The unnamed official also noted that Israel was seeking to shorten flight times from the occupied territories to Latin America through normalizing relations with African countries.
Deby became the first Chadian leader to visit Israel on Sunday, 46 years the two sides severed ties.
After meeting Israeli Prime Minister Benjamin Netanyahu, the Chadian president pledged a new era of cooperation with "the prospect of reestablishing diplomatic relations."
Israeli media cited sources in N'Djamena as saying that Deby's visit was focused on "security," and that the regime in Tel Aviv had already been supplying weapons and other military equipment to Chad.
Netanyahu, however, declined to comment on potential Israeli weapons sales to Chad.
During his visit, Deby said the future resumption of ties with Israel "does not make us ignore the Palestinian issue."
The Palestinians, however, protested Deby's trip to Israel.
Wasel Abu Youssef, a member of the Palestine Liberation Organisation's executive committee, voiced displeasure over the visit.
"All countries and institutions must boycott the extremist government of Israel and impose a siege on it because of its settlement activities, its occupation of Palestinian land," Youssef was quoted as saying by Reuters.
Over the past two years, Netanyahu has traveled to several African states in a bid to end decades of hostility against the occupying entity and convince them to stop voting against the Israeli regime at the United Nations in favor of Palestinians.
Benjamin Netanyahu is on a four-nation tour of sub-Saharan Africa for the first visit of Israel's prime minister to the continent in almost 30 years.
According to Channel 10, Israeli is now in talks with Sudan in a bid to improve relations with the African state.
The Israeli push comes almost two years after Sudan joined Saudi Arabia and Bahrain in cutting relations with Iran.
At that time, Israeli daily Haaretz reported that Tel Aviv had urged the US and other countries to improve their relationship with Sudan in response.
In a 2016, Sudanese Foreign Minister Ibrahim Ghandour said Khartoum was open to the idea of normalizing ties with Israel in exchange for lifting US sanctions.
Israel is also said to be seeking to take advantage of the insurgency and Takfiri militancy gripping parts of African to sell advanced military equipment to conflict-ridden states in the continent.
Israel in contact with Persian Gulf Arab states
Meanwhile, reports have emerged recently of Israel's attempts to make its secret ties with Persian Gulf Arab governments public and establish formal relations with them.
On Sunday, Israeli news sites reported that Tel Aviv is working to normalize ties with Bahrain, hours after Netanyahu hinted he would soon travel to unspecified Arab states.
Netanyahu met with Oman's Sultan Qaboos in Muscat last month, but the controversial visit was kept secret until after the Israeli premier returned to the occupied territories.
The visit to Muscat was the first by an Israeli prime minister since 1996.
Israeli PM Benjamin Netanyahu made a surprise visit to Oman last Thursday.
On Sunday, Israel's Hadashot television news reported that Netanyahu had secured reassurances from Oman that airlines flying to and from the occupied territories would be permitted to fly over the kingdom's airspace.
Activists with a pro-Palestine boycott campaign against Israel said Monday that the meeting between Sultan Qaboos and Netanyahu may have breached a long-dormant Israeli boycott law.
"Since 1977, official records stopped mentioning the Law of Boycotting Israel, neither denying it nor confirming it," an Omani activist with the Boycott, Divestment and Sanctions (BDS) movement told the Middle East Eye news portal.
"This happened when the country took a neutral policy in foreign affairs, including accepting normalizing ties with the Zionist entity," the activist added.
Another activist said several prominent activists had been arrested shortly before the Israeli prime minister's visit to Muscat for pro-Palestinian posts on social media, adding, however, that they were freed after disassociating themselves from BDS Oman.
"There is no clear legal path of how to implement the law. But even discussing this topic is a risky business, because there is no political free speech," he said.
The activist also noted that BDS Oman had sent its "sincerest apologies" to the Palestinian people after a visit by "criminal" Netanyahu.