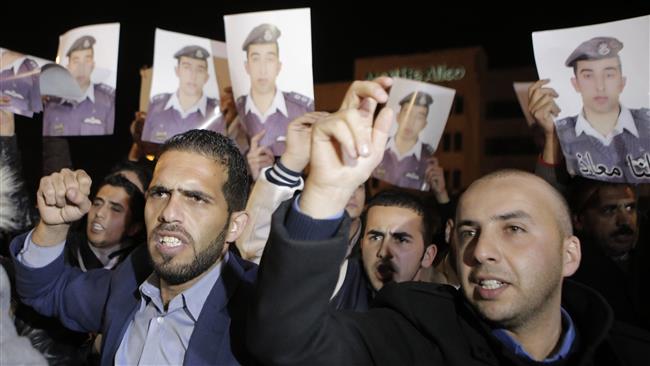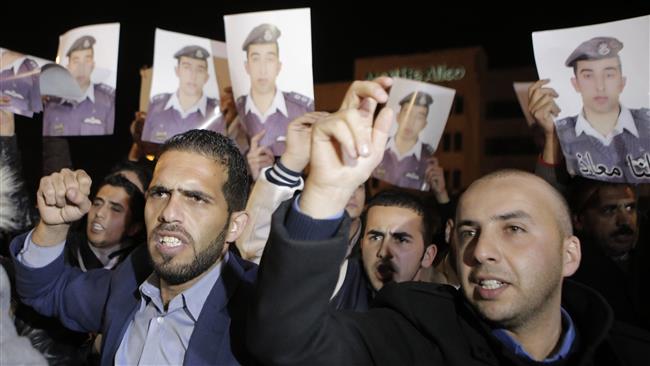 Jordanian officials have said they will not free an ISIL female terrorist until they are assured of the fate of a Jordanian pilot held by ISIL, although a deadline by the Takfiri group draws closer.
A spokesman for the Jordanian government announced Thursday that it will release Sajida al-Rishawi once it receives proof that the Jordanian pilot Moaz al-Kasasbeh is alive.
"Rishawi is still in Jordan and the exchange will happen once we receive the proof of life that we asked for," Mohammad al-Momani said in statement.
Jordan said Wednesday that it has yet to receive any proof regarding the safety of the pilot. The Jordanian government has also said that it will proceed with the release of Rishawi if Kasasbeh is freed. ISIL, however, has offered the release of a Japanese journalist instead.
ISIL extended the previous deadline, which ended on Wednesday. A recording by the Takfiri group warned that Jordan must present the female ISIL member at the Turkish-Iraqi border by sunset Thursday or the Jordanian lieutenant would be killed.
Jordan's King Abdullah II has come under huge pressure inside the country for not being active enough to save the pilot's life. Abdullah allowed some members of Kasasbeh's family into his palace in Amman after they gathered in front of the building Wednesday. The meeting between Abdullah and the family suggested that the king is more willing to exchange Rishawi with the Jordanian pilot rather than the Japanese journalist.
Rishawi is thought to have been behind an attack on a hotel in Jordan in 2005 and is on death row in Jordan.
Jordan is part of a US-led coalition battling ISIL, which controls swathes of land in Iraq and Syria.