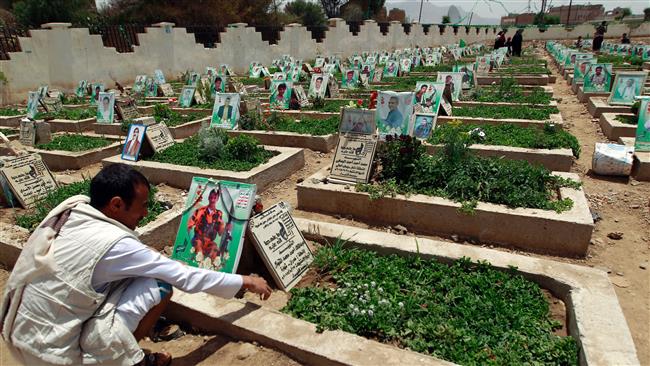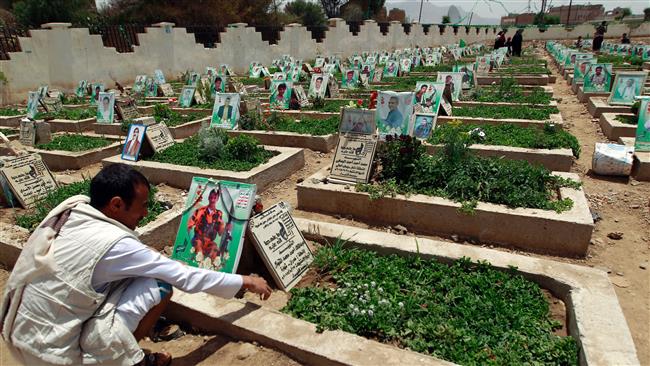 Two leading international human rights groups say Saudi Arabia should be suspended from the UN Human Rights Council over the indiscriminate airstrikes being carried out in Yemen.
Amnesty International and Human Rights Watch (HRW) said on Wednesday that the oil-rich kingdom should be removed from the UN top human rights panel until it ends its aerial attacks against Yemen and an independent probe into the assaults are carried out.
"Over the past few months, Saudi Arabia has gone beyond the pale and does not deserve anymore to sit on the Human Rights Council," HRW deputy director Philippe Bolopion said.
The two rights groups further noted that their investigators documented 69 unlawful airstrikes by Saudi Arabia, killing about 200 children. They said homes, markets, hospitals, schools and mosques were struck in the air raids.
They also argued that Riyadh is targeting civilian areas in Yemen with internationally banned cluster munitions, and laying siege to ports to prevent basic goods from reaching its troubled southern neighbor.
"Saudi Arabia is in a league of its own," Bolopion said, adding that the kingdom is "getting away with murder in a way that no other country has been able to do."
The rights groups highlighted that Saudi Arabia has exploited its position in the 47-member UN Human Rights Council to torpedo an independent international investigation into possible war crimes in Yemen.
HRW's director for the Middle East, Sarah Leah Whitson, also said the United States and Britain had "crossed the threshold to be part of this war" in Yemen by supplying weapons as well as aerial information to Saudi Arabia.
On June 6, the UN gave into to a Saudi demand to remove the kingdom from its annual blacklist of child rights violators, less than a week after it blamed Riyadh for the killing of hundreds of Yemeni children.
The Children and Armed Conflict (CAAC) report, published on June 3, said the Saudi coalition was responsible for 60% of child casualties in Yemen last year, during which 510 children were killed and 667 others injured.
Both Saudi Arabia and the UN drew international criticism after Ban Ki-moon acknowledged that he had expunged Riyadh from the blacklist under "undue pressure."
Saudi Arabia launched its military aggression against Yemen on March 26, 2015 in a bid to bring Abd Rabbuh Mansur Hadi — who has resigned as Yemen's president and is a staunch ally of Riyadh — back to power and defeat the Houthi Ansarullah movement.
More than 9,400 people have been killed and at least 16,000 others injured since the onset of the aggression.