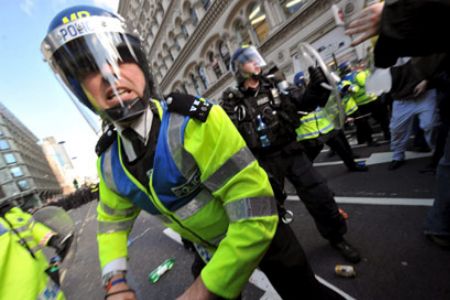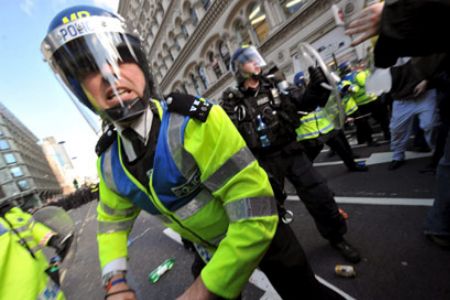 The UK-based human rights group, Amnesty International, has failed to address British police's conduct in its latest report on police crackdown on anti-austerity protesters across Europe.
In its report, entitled Policing Demonstrations in the European Union, the Amnesty said anti-austerity protesters in Europe are suffering excessive police violence and called on the EU governments to protect "the right to peaceful protest" during the eurozone crisis.
"People demonstrating peacefully in EU countries have been beaten, kicked, shot at and wounded with rubber bullets and sprayed with tear gas," Amnesty said.
"Yet excessive use of force by police goes un-investigated and unpunished", the report added.
The Amnesty report singled out several cases where police had severely beaten protesters in Greece, Spain and Romania.
However, the human rights group, did not refer to police brutality in the UK, where peaceful protests have been targeted with illegal and inhumane techniques such as "kettling".
As recently as last week, a peaceful demonstration organized by the Trade Union Congress (TUC) against capitalism and its associated miseries for ordinary citizens, was attacked by police in several cities, where several people were arrested and held without charge.
British police are internationally popular for their use of illegal tactics such as kettling — the police tactic of surrounding peaceful protestors and beating anyone who tries to leave – and other brutal techniques, which are deployed during anti-government gatherings across the UK. But, it seems that these techniques do not breach any international rights or humanitarian code of conduct, when deployed by the British police, because the Amnesty International did not refer to British police's conduct in its report.
During massive anti-cut protests in Britain last year, police forces even deployed a new untested kettling tactic, they said it has never been used before.
The Metropolitan Police were heavily criticized during last year's student protests, when they kettled thousands of students as young as 11 for several hours, even preventing them from using toilets.
Yet, the human rights group Amnesty International did not refer to harsh tactics used by British police forces.
The Amnesty report also did not refer to individual cases brought against police forces at the UK courts, yet it slammed police forces across the EU for violently suppressing anti-austerity protests.
A Met Police officer has been charged with a racially aggravated public order offence after it was revealed he racially abused a suspect during the unrests last August.
The British police were recently forced to publicly apologize for using taser stun gun on a blind man, whom police forces mistook his white stick with a Samurai sword and shot him in the back.
Several cases involving British police forces having shot innocent people with 50,000volt stun guns have occurred across the UK so far since they were deployed there, but the Amnesty International has never addressed those issues.
There are other subjects such as racially abusing detainees by British police forces, the Amnesty International is required to examine and tackle inside the UK.