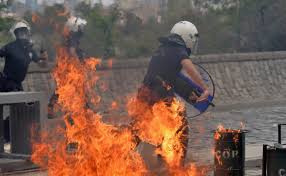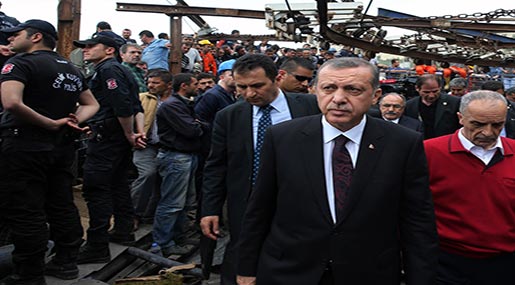 Clashes have erupted across Turkey as residents rally in anger at a mining accident which killed 274 people in the western Turkish town of Soma on Tuesday.
Eight hundred marched on Ankara's Energy Ministry as police fired tear gas and water cannon.
"Those who keep up with privatization… policies, who threaten workers' lives to reduce costs… are the culprits of the Soma massacre and they must be held accountable," Turkey's Public Workers Unions Confederation [KESK] said on its official website. The body is one of the major national trade union centers in the country, representing 240,000 employees.
Hursit Gunes, a deputy from the main opposition Republican People's Party, said a previous request for a parliamentary inquiry into safety and working conditions at mines around Soma had been rejected by the ruling AK Party.
The Prime Minister Tayyip Erdogan visited Soma on Wednesday. There, he was confronted with a spontaneous protest with locals booing and whistling at him.
Erdogan promised in a statement, that investigations will be launched into the accident, but he rejected claims that the government was to blame. "Explosions like this in these mines happen all the time. It's not like these don't happen elsewhere in the world," he said.
With rescuers still pulling bodies from the site, anger swept a country that has seen a decade of rapid economic growth but still suffers from one of the world's worst workplace safety records.
Opponents of Erdogan – who has already faced mass protests against his rule in the past year – have attacked his government for leasing mines to parts of the private sector cozy with the ruling party, and accuse it of ignoring repeated warnings about their safety.
In Istanbul, police fired tear gas and water cannon to disperse several thousand people, some wearing miners' hard hats and headlamps. Police also clashed with demonstrators in the capital Ankara and there were protests in other cities.
The fire broke out during a shift change, leading to uncertainty over the exact number of miners trapped. Energy Minister Taner Yildiz said the death toll as of 1930 GMT on Wednesday was 274, making it Turkey's deadliest accident. Late on Tuesday he said 787 workers had been in the mine.
Knowing that, Turkey's safety record in coal mining has been poor for decades, with its previous worst accident in 1992, when a gas blast killed 263 workers in the Black Sea province of Zonguldak.