Saudi Arabia
Angry Protestors Urge Freedom of Political Prisoners from Saudi Jails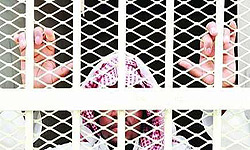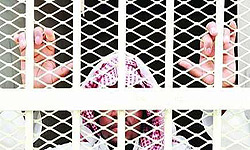 A large number of protestors staged a demonstration in front of a Saudi prison in Qassim province to demand the release of their relatives who have been arrested and locked up by the al-Saud regime for political reasons.
The Saudi security forces blockaded the roads around a desert prison in Central Saudi Arabia on Monday where relatives of inmates were staging a demonstration to demand their release.
The protestors had gathered since Sunday afternoon in the desert around the prison in Qassim province but were told by police they would be arrested if they tried to leave, protesters said by telephone.
They complained they had no food or water because of the blockade but said they would keep up the protest.
"We will stay here and not move until they listen to our demands and that is the release of our jailed relatives," said protester Reema al-Juraish, who said her husband, a nurse, has been held for eight years without charge.
Some of the inmates were in jail on security-related charges or for political activity but others had not been charged.
A spokesman for Saudi Arabia's Interior Ministry did not respond to calls or messages late on Sunday or on Monday requesting comment.
Protests are banned in Saudi Arabia, a monarchy with almost no elected bodies, but relatives of people held during protests, sometimes for long periods without trial, have demonstrated several times since the start of last year.
Tarfiya prison is in the desert, 15 kms (10 miles) from the nearest village. Police on Sunday set up checkpoints on the two roads leading to it and patrol the desert around it to prevent people from entering or leaving, protesters said.
"We are hungry and thirsty and looking for shade under vehicles," one protestor who declined to be named for fear of being arrested told Reuters by telephone.
A crying baby could be heard in the background.
Four buses had arrived on Monday carrying security forces personnel with shields and batons.
Saudi Arabia avoided the kind of civil unrest that toppled the tyrannical leaders across the Arab world last year.
Since February 2011, Saudi protesters have held demonstrations on an almost regular basis in Eastern Provinces, mainly in the Qatif region and the town of Awamiyah, calling for the release of all political prisoners, freedom of expression and assembly, and an end to widespread discrimination.
However, the demonstrations have turned into protests against the Al Saud regime, especially since November 2011, when Saudi security forces killed five protesters and injured many others.
The Saudi interior ministry issued a statement on March 5, 2011, prohibiting "all forms of demonstrations, marches or protests, and calls for them".
The Saudi regime alleges that is has banned protests and demonstrations "because that contradicts the principles of the Islamic Sharia, the values and traditions of Saudi society, and results in disturbing public order and harming public and private interests".
In June, Saudi King Abdullah bin Abdulaziz Al Saud ordered the country's security forces to go on a state of high alert due to what he called a "turbulent situation" in the region.
According to Human Rights Watch, the Saudi regime "routinely represses expression critical of the government".