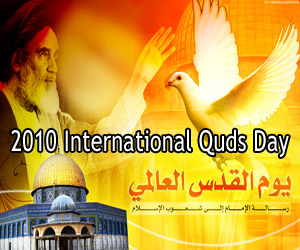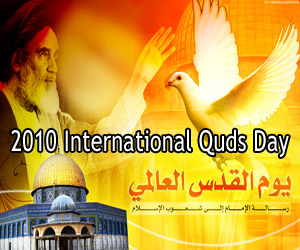 Announcement of International Quds Day
In the Name of God, the Compassionate, the Merciful
For many years, I have been notifying the Muslims of the danger posed by the usurper Israel which today has intensified its savage attacks against the Palestinian brothers and sisters, and which, in the south of Lebanon in particular, is continually bombing Palestinian homes in the hope of crushing the Palestinian struggle. I ask all the Muslims of the world and the Muslim governments to join together to sever the hand of this usurper and its supporters. I call on all the Muslims of the world to select as Quds Day the last Friday in the holy month of Ramadan – which is itself a determining period and can also be the determiner of the Palestinian people's fate – and through a ceremony demonstrating the solidarity of Muslims world-wide, announce their support for the legitimate rights of the Muslim people.
I ask God Almighty for the victory of the Muslims over the infidels.
Imam's message announcing Quds Day, dated 7 August 1979 (16 Murdad 1358 AHS). Sahifa-yi Nur, Vol. 8, p. 229.