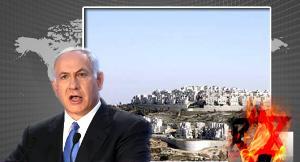 An Israeli minister says the population of Israeli settlers in the occupied West Bank will bulge by 10,000 despite a temporary settlement freeze announced by Tel Aviv.
Benny Begin, a minister without a portfolio, said on Thursday that the construction of 3,000 homes already started would be completed regardless of the freeze, adding that about 10,000 more settlers would move in.
Begin said the moratorium was not by any means intended to block Israel's settlement expansion but would only limit the construction activity.
Earlier in the day, Israeli Prime Minister Benjamin Netanyahu's office said that the premier would list some West Bank settlements as 'national priority' areas, notwithstanding earlier assurances that Tel Aviv would not grant building permits for settlements in the occupied territories for the next 10 months.
"This is neither a freeze nor a suspension…Construction in Judea and Samaria will continue in the next 10 months," the Likud minister said referring to the settlement expansions in the West Bank.
"We are now clarifying the conditions on the ground and saying that we don't intend to restrict or suspend new building permits."
Netanyahu's spokesman Mark Regev declined to comment on the remarks and said that the declared freeze stood with no change.
The Palestinian Authority has repeatedly demanded a permanent freeze on settlement expansions in the West Bank — which would also apply to East Jerusalem Al-Quds — as a precondition to any peace talks with the Israeli side.
The newly announced moratorium has thus received a chilly welcome from Palestinian leaders, who have dismissed the temporary freeze for not applying to the housing units under construction in East Jerusalem Al-Quds and allowing for Israel's recidivism.
It also allows for more schools, synagogues and other community infrastructure in a dozen settlements in East Jerusalem Al-Quds, which was occupied in the 1967 Six-Day War and was later annexed by Tel Aviv despite opposition from the international community.
The Netanyahu administration is facing mounting domestic pressure to withdraw the freeze amid street protests by hardline settlers and a worrying rise in settler violence against the Palestinian community in the West Bank.